This is a relaxed family friendly fun run held every Wednesday night during summer daylight saving hours.
The 5km undulating course is run on footpaths & suitable for walkers, runners & those with baby buggies.
Walkers can register & leave at their leisure anytime after 5.30pm.
6.00pm is start time for those with an estimated finish time over 25 minutes.
6.05pm is when the runners who will run a time under 25 minutes will hit the course including the kids who run to the 1k marker with the adults before they turn around & then run back to the start / finish line.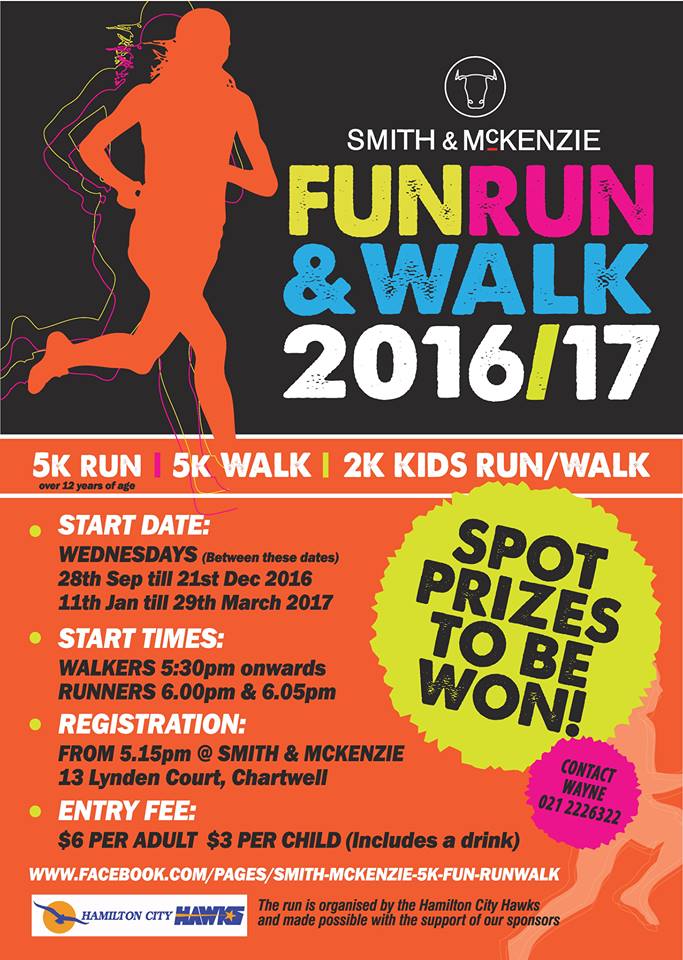 You can choose which group you go in depending on how fast you want to run.
Children need to be at least 10 years old to compete in the 5k run.
Times will be recorded for the runners & posted on this Facebook page.
Entry Fee $6 per adult, $5 per adult that is a member of Hamilton Hawks & $3 per child
Head back to Smith & McKenzie once you have finished your run/walk & receive a free drink when you return your race number.
A prize giving will be held once everyone has finished where many spot prizes will drawn out of the bag.
This low key event is held so that people of all fitness levels can come together on a Wednesday night and do some exercise together. Some people walk 5k, some walk a bit, run a bit, walk a bit, run a bit….it doesn't matter what you do, but it is great to get out & do something.
Any enquiries to Wayne Duckett on 021 2226322