Christchurch Marathon 2015 Results
Marathon Race Report by Ryan Stacey
Christchurch Marathon day started at a brisk -3 degrees. A lot of buildup to get to today. Would all those hours of training pay off in the result? The two lap course started well heading from Cathedral square out and back around Hagley park, enjoying the company of the 10km and half marathon runners.
The second part of the loop took runners alongside the Avon river and back through the altered landscape of central Christchurch. Running through red zoned, flattened areas that used to be full of hundreds of houses now completely gone was eerie. Uneven roads and potholes meant you had to concentrate harder on foot placement.
As I rounded halfway mark, splits were on track and I had managed to get enough nutrition on board through the aid stations. As I passed through the central city onto the second lap, I was still feeling strong and working in a group. Then as we hit the 33/34km km mark, the point where the race really starts, the legs started to die. The last few kms really tested me mentally and physically as I tried to hold on to my pace and place in the field. When I ran over the line it was such a relief to come away with a 3 minute PB (2:41:54) and a 9th place finish.
Congratulations to Tim Stewart who had a strong race in a stacked half field for the national half marathon champs and to Oliver Mclean who finished 2nd in the Junior Men 10km.
Half Marathon Race Report by Tim Steward
After surprising myself with a 1:08:28 half marathon at Rotorua off an injury riddled build up, I flew into Christchurch with high hopes of a good result. While the field was stacked with some of the country's best I had put together a good few weeks of preparation since Rotorua so decided to take a bold approach and go out hard in pursuit of the Top 5 place prize money.
We went off fast, but my legs didn't feel it thanks to a solid taper during the week and an overflow of adrenalin which had built up on the start line. after a very fast first kilometre we settled into a rhythm of about 3:06min/km before Aaron Pulford started throwing in surges in a way that was described by another competitor as "a pitbull fighting with his leash". At about the 7km mark my legs began to feel the pace and I dropped off the leaders alongside young Rotorua athlete Michael Voss. When we went through the 10km mark in 31:45 (my second fastest ever), I realised that my legs were on the path towards imminent meltdown so eased off the pace to a more comfortable 3:20min/km.
When Wellington athlete Nick Horspool came past me at the 14km mark I tried to jump on his shoulder in pursuit of another PB. Unfortunately soon after I lost all strength in my legs while going up a slight rise, so knew it was time switch to plan B and buckled down for a long session in the hurt box. The final 6 or so km in no man's land can only be understood by someone who has finished a race exhausted, only to be told that they've got another lap left. During the long straights parallel to the Avon River I worked hard to regain ground on Michael Voss in the hope that his legs had suffered a worse explosion than mine, but it was a lost cause I eventually trudged home in 1:09:45, which gave me a respectable 12th place.
Overall I was happy to get under 70 minutes and not be too far off some of the guns, but in retrospect felt that I could certainly have flirted with the 68 minute barrier had I calmed the excitement early on and run a more even race.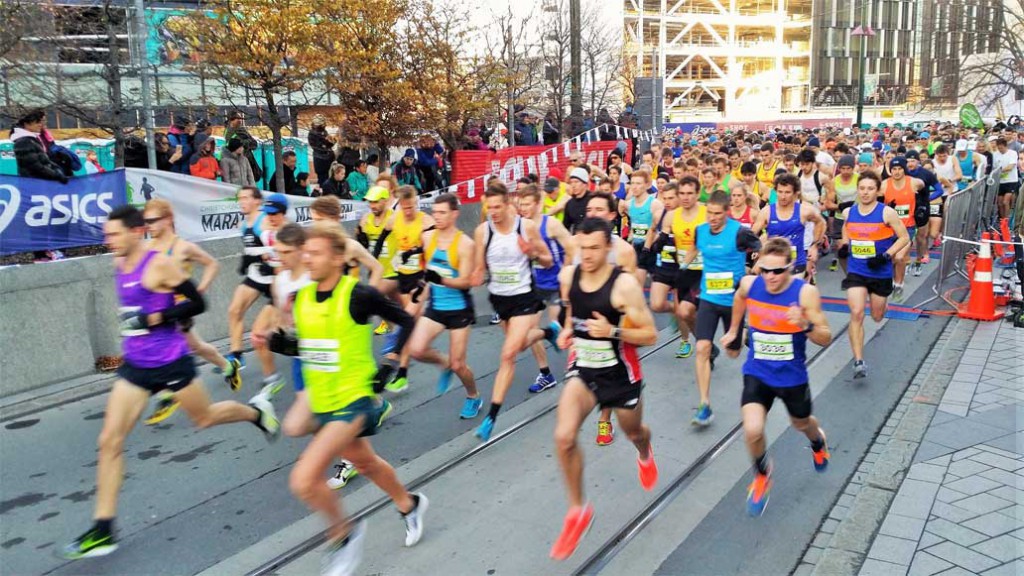 Photo supplied with permission by Christchurch Marathon.
https://hamiltoncityhawks.co.nz/wp-content/uploads/2009/11/Club-Events-2.jpg
480
640
Hawks | Admin
https://hamiltoncityhawks.co.nz/wp-content/uploads/2015/05/HamiltonCityHawks.png
Hawks | Admin
2015-05-31 16:30:41
2015-05-31 16:30:41
Christchurch Marathon 2015 Results