Race Report by Glenn Sexton
This year Club Road Champs was held at the Eastside course.
Surprisingly our humble wee group of mainly townies with the odd cow cockie suddenly because an extreme M Bovis risk at Ruakura so we were unable to have our club champs there this year nor in the future by the looks. Lance, Kris and myself scouted around tow looking for traffic free course with toilets and a hall or somewhere to have the after match function. These are as scarce as hens teeth so we settled on the Eastside course we use for the summers Tuesday night runs. Our main concern was the amount of public that could be potentially on the course, which was compounded on the morning by the traffic chaos getting to the gardens to the Tulip festival. Luckily the flower lovers stuck to the gardens and our pre race brief to be considerate to other users was heeded. Thanks for that, no complaints so far!!
To the racing the kids 2 and 3k had a modest field of 4, All ran well with Alba letting me know with 500 metres to go that she had "left mum behind"
The 5 and 10k had a total of 41 starters which was a little less than previous years but the racing was as keen as usual.From my position mid pack it looked like Logan Rodger led a bunch early and gradually pulled away to finish first. Kirsten led the womens 10k the whole way before trekking up to Auckland to win the new trail race in 3.25 the next day.The 5km was won by Ben Bidios who ran with Logan and Samantha Corbett. By all accounts the finish of the day came from John Bowe who had younger legs for the final downhill dash with Kento.
Big thanks to Lance and Kris for setting up, Fiona, Briar Carr and Shona for doing registrations and timing and Dean Corbett and Gordon Spiers for manning the marshall spots.
I think i got everyone but apologies if i missed. It was also great to see friends, fellow members and family scattered along the course cheering us on.
Hi-Res Photos on Flickr here>>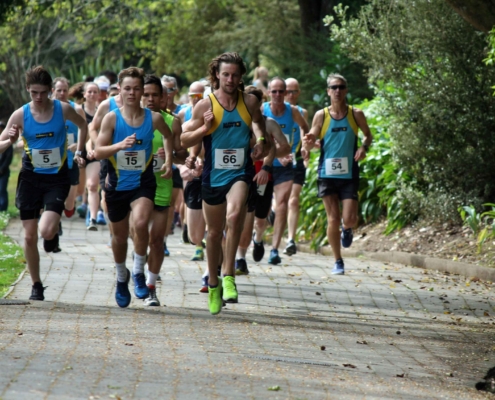 Race report and photos to be posted here and facebook later.
| | | | | | |
| --- | --- | --- | --- | --- | --- |
| Place | Bib | Name | Distance | Category | Time |
| 1 | 15 | Ben Bidois | 5km | MU16 | 16:43 |
| 2 | 5 | Andrew Carr | 5km | MU16 | 17:06 |
| 3 | 3 | Sam Corbett | 5km | WU18 | 20:24 |
| 4 | 16 | Garry Wilson | 5km | MM50-59 | 21:09 |
| 5 | 2 | Gemma Horan | 5km | WU16 | 21:57 |
| 6 | 8 | Gary Clare | 5km | MM40-49 | 22:17 |
| 7 | 14 | Maureen Leonard | 5km | MW55+ | 22:31 |
| 8 | 11 | Dawn Tuffery | 5km | MW35-44 | 22:50 |
| 9 | 13 | Kay Stockman | 5km | MW55+ | 23:23 |
| 10 | 12 | Katy Corbett | 5km | WU18 | 24:51:00 |
| 11 | 1 | Shona Dewson | 5km | MW45-54 | 25:02:00 |
| 12 | 7 | Kerry Rattray | 5km | MW45-54 | 26:02:00 |
| 13 | 6 | Kaye Sharpe | 5km | MW45-54 | 26:21:00 |
| – | 4 | Wendy Harris | 5km | MW45-54 | DNF |
| – | 9 | Helen Hall King | 5km | MW55+ | DNF |
| – | 10 | Mike Riley | 5km | MM60+ | DNF |
| – | 17 | John Crane | 5km | MM50-59 | DNF |
| 1 | 66 | Logan Rodger | 10km | SM | 34:06:00 |
| 2 | 75 | Theunis Pieters | 10km | SM | 34:24:00 |
| 3 | 68 | Richard Malcolm | 10km | SM | 35:59:00 |
| 4 | 60 | Josh Nyika | 10km | SM | 36:37:00 |
| 5 | 79 | Simon Kerr | 10km | SM | 36:54:00 |
| 6 | 71 | Lance Brew | 10km | SM | 37:06:00 |
| 7 | 55 | John Bowe | 10km | MM40-49 | 37:13:00 |
| 8 | 61 | Kent Hodgson | 10km | MM50-59 | 37:18:00 |
| 9 | 72 | Andrew Wark | 10km | MM50-59 | 37:53:00 |
| 10 | 56 | Chris Smith | 10km | MM50-59 | 38:14:00 |
| 11 | 76 | Rhys Mildon | 10km | SM | 38:46:00 |
| 12 | 50 | Glenn Sexton | 10km | MM50-59 | 39:01:00 |
| 13 | 52 | Kris Moore | 10km | SM | 39:11:00 |
| 14 | 69 | Martn Ferry | 10km | SM | 39:25:00 |
| 15 | 54 | Marc Scott | 10km | MM40-49 | 39:44:00 |
| 16 | 51 | Mike Harris | 10km | MM40-49 | 40:25:00 |
| 17 | 58 | Chris Keith | 10km | MM50-59 | 41:03:00 |
| 18 | 57 | Kevin Knowles | 10km | MM60+ | 41:42:00 |
| 19 | 73 | Kirsten Milne | 10km | SW | 42:05:00 |
| 20 | 59 | Sunil Fernandez Ritchie | 10km | SM | 42:26:00 |
| 21 | 62 | Iain Rattray | 10km | MM40-49 | 42:32:00 |
| 22 | 74 | Helen Gavin | 10km | SW | 42:40:00 |
| 23 | 78 | Kovo McDonald | 10km | SW | 43:26:00 |
| 24 | 65 | Connie Daws | 10km | SW | 48:52:00 |
| 25 | 63 | Ray Chrystall | 10km | MM40-49 | 50:25:00 |
| 26 | 70 | Vaughan Swale | 10km | MM60+ | 50:25:00 |
| 27 | 77 | Grahame Clarkin | 10km | MM60+ | 54:54:00 |
| – | 53 | Ross Barnett | 10km | SM | DNF |
| – | 64 | Bradley Christison | 10km | MU20 | DNF |
| – | 67 | Colin King | 10km | MM60+ | DNF |
Kids Event
| | | | | | |
| --- | --- | --- | --- | --- | --- |
| | | Amber  Rattray | U10 | | 11:22 |
| | | Alba Watkins | U10 | | 14:22 |
| | | Zarah Rattray | U12 | | 8.39 |
| | | Maddison Rattray | U14 | | 12.48 |
https://hamiltoncityhawks.co.nz/wp-content/uploads/2018/09/ClubRoadChamps2018.jpg
2304
3456
Hawks | Admin
https://hamiltoncityhawks.co.nz/wp-content/uploads/2015/05/HamiltonCityHawks.png
Hawks | Admin
2018-09-22 16:30:58
2018-11-15 12:38:59
Club Road Champs 2018 Results