Trophy Day went well, with 40 runners. It was nice to see Zane along to watch.
The handicap start had runners guessing their own finish times and setting off accordingly, making for a fast 5k finish.
After making the longest time-difference allowable 30 seconds it was clear half the field would have been disqualified so we went back to 60 seconds, as in previous years.
Congratulations to the Trophy winners.
Cameron Cup 1st existing female – Kay Stockman
Chandler Cup 1st new female – Kerry Rattray
Cotterell Cup 1st existing male – Marcus Daws
Ready Cup- 1st new male – Mike Riley
Carson Cup U14 girls – Zarah Rattray
Upton Cup U14 boys – Hugo Field
Humphries Cup U12 girls – Amber Rattray
Johnson Cup U12 boys – James Nugyen
Photos on Flickr Account (Full Hi-Resolution) >>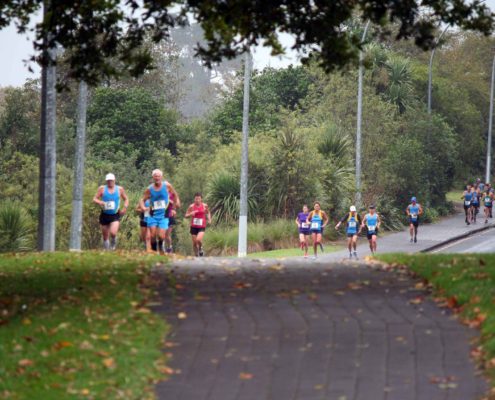 | | | | |
| --- | --- | --- | --- |
| Name | Est time | Actual time | Dif (in secs) |
| Ross Barnett | 25:00 | 22:29 | -151 |
| Colin King | 26:00 | 24:22 | -98 |
| Ken Johnson | 24:30 | 23:05 | -85 |
| Ray Chrystall | 24:00 | 22:38 | -82 |
| Donovan Farrell | 22:00 | 20:40 | -80 |
| Vaughan Swale | 24:30 | 23:37 | -63 |
| Lucy Farrell | 21:30 | 20:10 | -80 |
| Mike Riley | 26:00 | 25:10 | -50 |
| Kay Stockman | 24:30 | 23:34 | -56 |
| Kerry Rattray | 27:30 | 26:42 | -48 |
| Helen Hall-King | 22:30 | 21:44 | -46 |
| Carolyn Farris | 25:30 | 24:52 | -28 |
| Marcus Daws | 22:30 | 21:55 | -35 |
| Paul Reynolds | 22:30 | 21:59 | -31 |
| Simon Kerr | 18:00 | 17:23 | -37 |
| Lance Brew | 18:00 | 17:25 | -35 |
| Kevin Knowles | 20:30 | 19:55 | -35 |
| John Crane | 18:30 | 18:00 | -30 |
| Terry Hannett | 34:00 | 33:42 | -18 |
| Graham Clarkin | 25:30 | 25:05 | -25 |
| Fleur Marillier | 25:00 | 23:22 | -98 |
| Brendan Hicks | 28:00 | 27:55 | -5 |
| Gemma Horan | 22:00 | 21:48 | -12 |
| Mike Harris | 19:00 | 18:51 | -9 |
| Ben Wild | 27:00 | 28:30 | 90 |
| Sunil Fernadez Ritchie | 19:00 | 19:02 | 2 |
| Andrew Wark | 18:30 | 18:34 | 4 |
| Dave Southwick | 27:00 | 27:10 | 10 |
| John Mering | 16:30 | 16:31 | 1 |
| Toshimi Farrell | 22:30 | 22:40 | 10 |
| Wendy Harris | 27:00 | 27:19 | 19 |
| Debbie Morris | 34:00 | 34:31 | 31 |
| Madison Rattray | 24:30 | 24:55 | 25 |
| Kent Hodgson | 18:30 | 19:17 | 47 |
| Steve Rossiter | 25:30 | 25:50 | 20 |
| Wendy Fox | 25:30 | 28:14 | 22 |
| Sophie Harris | 27:00 | 28:14 | 74 |
| Max Field | 28:00 | 29:18 | 78 |
| Gilbert Macdonald | 24:00 | 26:21 | 141 |
| Garth Richie | 40:00 | 44:30 | 270 |
| | | | |
| Kids | Age | Time | |
| Zarah Rattray | G11 | 8:53 | |
| Hugo Field | B8 | 10:14 | |
| Amber Rattray | G7 | 10:21 | |
| Phoebe Field | G13 | 10:28 | |
| James Nguyen | B10 | 10:28 | |
| Cory Brew | B7 | 10:37 | |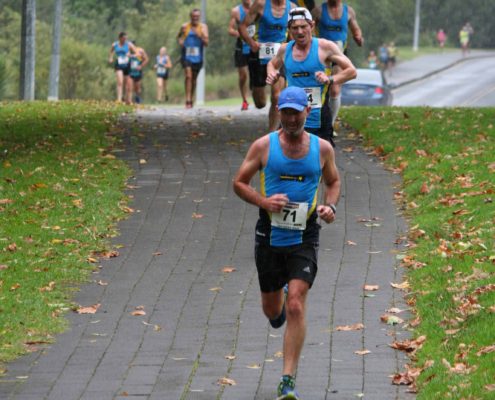 https://hamiltoncityhawks.co.nz/wp-content/uploads/2018/04/Trophy-Day_1b.jpg
2304
3456
Hawks | Admin
https://hamiltoncityhawks.co.nz/wp-content/uploads/2015/05/HamiltonCityHawks.png
Hawks | Admin
2018-04-28 16:30:03
2018-05-03 08:20:17
Trophy Day 2018 Results