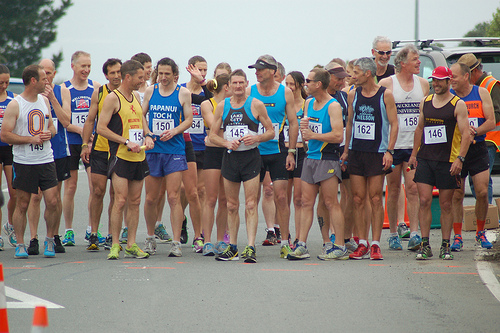 The Athletics New Zealand Road Relays is to be held in Feilding this year.
Past years event included…
All travel (bus to & from event)
2 night's accommodation
Team van hire & petrol
Race entry fees
Saturday night team dinner
NRR sub-committee is working on deciding which teams to send. We have committed to a certain number of beds (which will correlate into teams), but not exactly WHICH teams will be sent.
We cannot base our decisions about teams on the assumption that people will join the club if they are selected for a team. It is a privilege, not a right, for a team to be selected to compete for the club.
Of our members, over half are considered "social". These members contribute the same amount financially to the club as "competitive" members, and whilst not being as fast as competitive members, contribute just as much to the club in terms of their participation and enthusiasm. While many running clubs nationwide are struggling for members, the Hawks is healthy and a lot of this is due to our strong social membership.
Therefore, due consideration is going towards how many "social/composite" teams are going to be sent this year.
As we are now 2/3rds of the way through the R&XC season, it is not unreasonable to expect our members to have paid their subscriptions for the season. If you wish to be considered to be part of a team for Road Relays, you must be a registered member (a social membership is sufficient, if selected for a competitive team you can upgrade later) by AUGUST 1st.
If we do not have enough members registered to make a grade by this date, a team will not be sent.
Teams that are currently being considered are:
Junior Women (Captain: Charli Millar)
Masters Men 40 (Captain: Marcus Daws/Ross Barnett)
MM 50 (Captain: John Crane)
Open 60 (Captain: Kevin Knowles)
Masters Women 35-49 (Captain: Maria Bentley)
MW 50 (Captain: Bridget Deverell)
Social/Composite (Captain: Fiona Barnett)
If you wish to be considered for a team (competitive OR social), then please contact the Captains listed above as soon as possible and make sure that your 2019 subscription has been paid by August 1st.
We also need to see some form, so participation at 2 of these these events is vital: Sweeney Cup – August 3rd; National XC champs – August 4th; WaiBop Road champs – August 25th; NZ Road champs – September 15th; Club Road champs – September 21st.
Cheers,
NRR sub-committee