Ultra Trail Australia 100k – race report
Report by Marcus Daws
I've always enjoyed reading everyone's race reports but have always been terrible at actually contributing to the pool. However, after my last race I figured it was about time to put finger to keyboard.
In recent years, kids and business have been my excuse for consistently 'average' running. Turning up under-prepared and bluffing my way through races has been fine but with a significant birthday coming up I was looking for a bit of a challenge and stumbled across the Ultra-trail Australia. I suddenly found the butterflies flapping in my stomach, there would be no way to bluff this one, with 4,400 metres elevation and over 10,000 stairs to tackle this was meant to be a seriously gruelling 100km ordeal, perfect! I signed up and actually did some proper training. the fire was lit!
Fast forward… on the start line and what a buzz, the UTA is a monster of an event and the atmosphere was pumping. So naturally I went out too fast on the first few k's along the road before getting into the race proper. Once off the road you drop down the Ferber steps. 951 steps to drop you down into the Blue Mountains knowing that I'd be coming back up them at the very end of the run, something to look forward to all day. We navigated through some very technical terrain (lots more stairs) until we finally got to some good runnable trails, so I settled in and found my rhythm and started ticking off some k's.
This race has a big dropout rate (18% this year was a record low) and I was chatting with a fella around the 30k mark who was on his third attempt, one year he pulled out with heat stroke and last year it was a knee issue. Almost as soon as we discussed it my knee started to complain as my ITB flared up. I did my best to ignore it and trundled on but struggled more and more with anything downhill. Heading uphill was fine and I stormed up Nellie's Glen and into the 57k checkpoint where there was a Physio who gave it a quick loosen up and some strapping. I also got accosted by the kids who did their support crew role well, pinching my food and hiding my shoes but they certainly made my day. So after a leisurely 25 minute stop it was time to get out and get this done, just a little marathon left to go.
The next stage was very up and down through the Leura Forest, stunningly beautiful with waterfalls and views of the sunset over the mountains but as the headlight went on it was time just to get down to business and get this done, my knee was screaming and I went past two people who had pulled out with the exact same thing, those damn stairs. Anything downhill was becoming impossible and I knew coming up I had the Kedumba pass, 8k straight downhill to the valley floor before the final 12, straight back up to the finish. Forced to a walk by this stage I just had to suck it up. Off in the distance I could see the lights from the finish line illuminating the 3 sisters, a famous rocky outcrop that was lit light a beacon calling me home. I switched off my headlight and did most of this section with just the full moon lighting my way, just magical!
So to finish it off, it was back up the Ferber steps which to be fair were a piece of cake, they've got nothing on the Haks and I was running high on adrenaline as you can hear the finish line 2k out (Kerry Suter on the microphone). I managed my unofficial goal of finishing before midnight and came in at 16hrs49 for the bronze belt buckle.
It wasn't pretty but I definitely found the challenge I was searching for. The Blue Mountains are really quite magical and the views around every corner take your breath. The event itself is amazing and the atmosphere and support around the course it second to none. If you're looking for a big challenge, stick this one on your bucket list.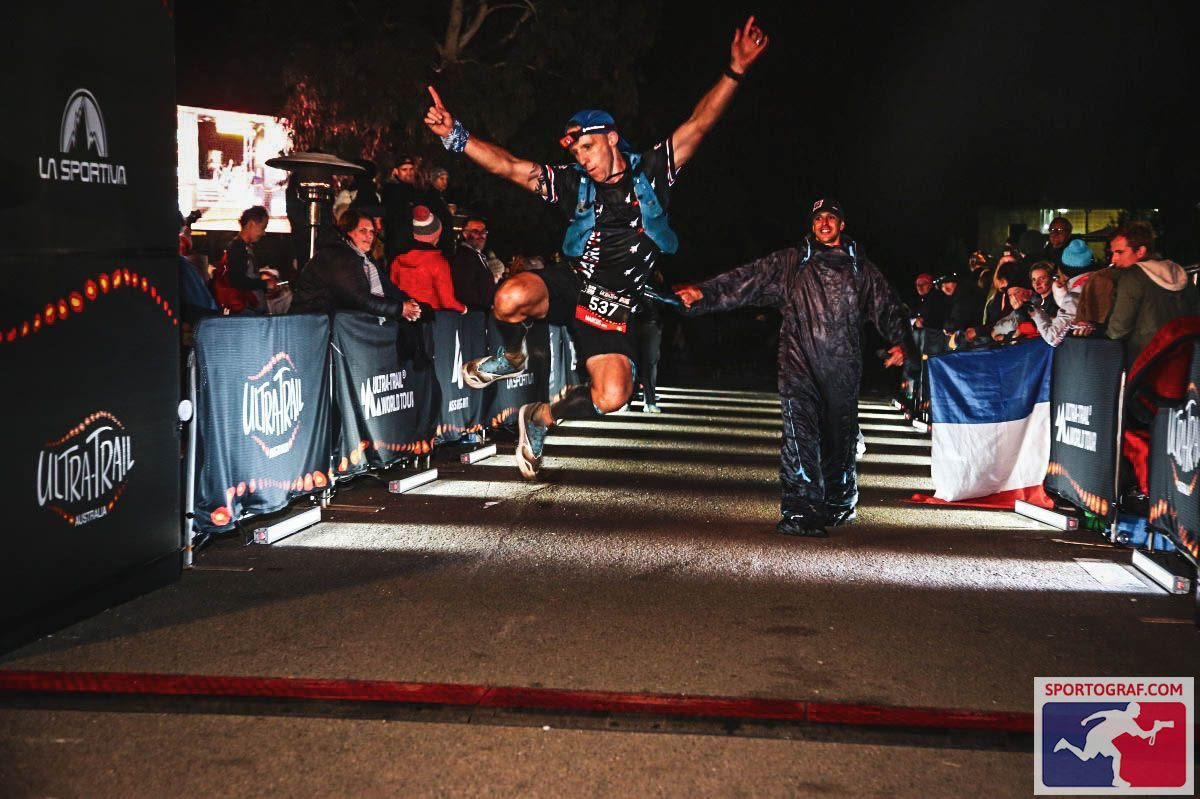 https://hamiltoncityhawks.co.nz/wp-content/uploads/2019/06/marcus_100k_2019.jpg
799
1200
Hawks | Admin
https://hamiltoncityhawks.co.nz/wp-content/uploads/2015/05/HamiltonCityHawks.png
Hawks | Admin
2019-05-19 19:20:19
2019-06-18 19:25:14
Ultra Trail Australia 100k – race report