Club Cross Country Champs 2019 Results
Report by Glenn Sexton
This year Hawks decide to open our champs up to the other clubs in the Centre in an effort to encourage some better racing for our and the other clubs members . The day dawned nice and fine and with Lance leading the team and myself, Jai, Nick Freke helping, getting an early look at the course during the setup. Footing was firm with very little mud, making fast times a possibility.
People started rocking up from about 1pm and the plan of inviting the other clubs looked to have been a success with visitors from a far as Taupo, Thames and Tauranga travelling along with a great turnout from Cambridge. The kids race had the biggest field we have had for years with 14 starters.
In the main race we had one field with the 3k,5k,6k and 9k all racing together. This format gives everyone a better chance of having someone to race, although once someone turns off early it can be a little lonely for a bit after.
A big thanks to Lance and the setup and take down team who once again did a great job marking the course, Graham of course for his timing services and all the other helpers we had on the day. Running down that hill to the turnaround tree it was also great to see so many supporters cheering us runners on and offering helpful encouragement. Hopefully next year the club will again open the race up and have another days great racing.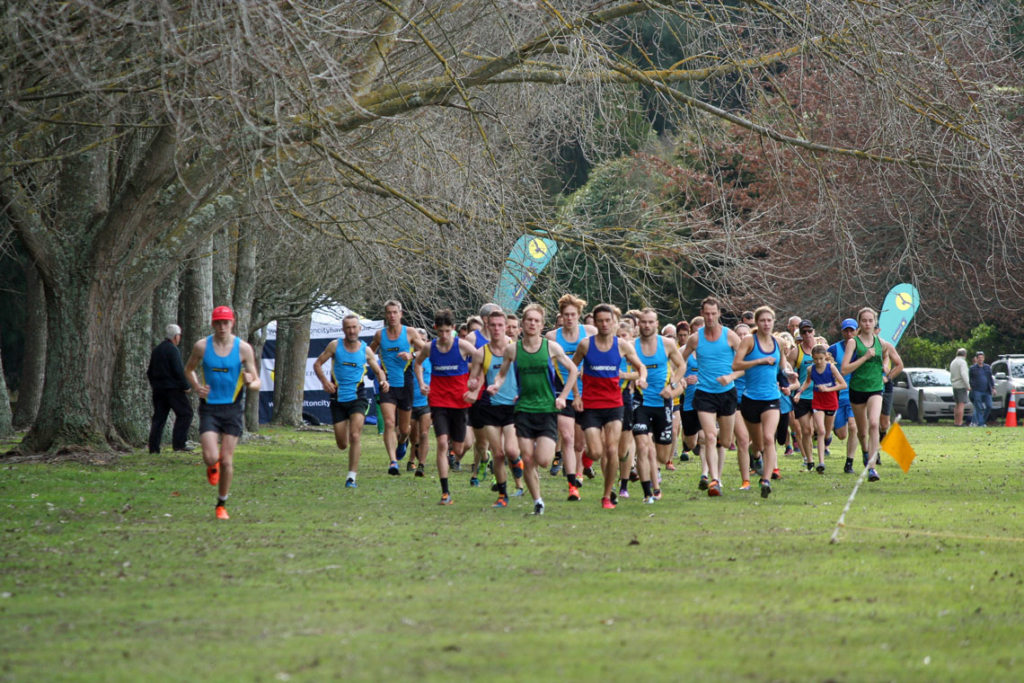 | | | | | | | | | | |
| --- | --- | --- | --- | --- | --- | --- | --- | --- | --- |
| Place | RaceNo | TIME | Name | Surname | Grade | GdPl | Dist | Net Time | HOUSE/Club |
| 1 | 694 | 00:29:27 | Steve | Rees-Jones | sm | 1 | 9KM | 29:27 | Cambridge |
| 2 | 655 | 00:30:00 | jonny | mckee | sm | 2 | 9KM | 30:00 | cambridge |
| 3 | 664 | 00:30:38 | jai | davies-campbell | sm | 3 | 9KM | 30:38 | kiwi |
| 4 | 704 | 00:31:05 | michael | sutton | sm | 4 | 9KM | 31:05 | TGA Ramblers |
| 5 | 658 | 00:33:00 | Lance | Brew | sm | 5 | 9KM | 33:00 | Tui |
| 6 | 703 | 00:33:53 | reuben | tomlinson | sm | 6 | 9KM | 33:53 | new hawk |
| 7 | 659 | 00:35:10 | paul | overend | sm | 7 | 9KM | 35:10 | hawk new! |
| 8 | 668 | 00:35:33 | sunil | fenandes-ritchie | sm | 8 | 9KM | 35:33 | kiwi |
| | | | | | | | | | |
| --- | --- | --- | --- | --- | --- | --- | --- | --- | --- |
| Place | RaceNo | TIME | Name | Surname | Grade | GdPl | Dist | Net Time | HOUSE/Club |
| 1 | 667 | 00:19:21 | ben | bidois | bu18 | 1 | 6KM | 19:21 | ruru |
| 2 | 682 | 00:19:54 | william | taylor | BU18 | 2 | 6KM | 19:54 | Tui |
| 3 | 708 | 00:20:44 | dean | chiplin | mm40 | 1 | 6KM | 20:44 | cambridge |
| 4 | 683 | 00:21:33 | William | swales | mu20 | 1 | 6KM | 21:33 | kiwi |
| 5 | 687 | 00:22:00 | john | crane | mm50 | 1 | 6KM | 22:00 | kiwi |
| 6 | 675 | 00:22:11 | john | bowe | mm40 | 2 | 6KM | 22:11 | ruru |
| 7 | 684 | 00:22:16 | zach | taylor | mu20 | 2 | 6KM | 22:16 | Ruru |
| 8 | 690 | 00:22:17 | chris | smith | mm50 | 2 | 6KM | 22:17 | kahu |
| 9 | 645 | 00:22:26 | Glenn | Sexton | MM50 | 3 | 6KM | 22:26 | Kahu |
| 10 | 650 | 00:22:26 | John | Charlton | MM40 | 3 | 6KM | 22:26 | Cambridge |
| 11 | 669 | 00:23:01 | marc | scott | mm50 | 4 | 6KM | 23:01 | ruru |
| 12 | 643 | 00:23:11 | Michael | Peck | MM50 | 5 | 6KM | 23:11 | Ruru |
| 13 | 712 | 00:23:13 | mike | causer | mm40 | 4 | 6KM | 23:13 | cambridge |
| 14 | 699 | 00:23:19 | Patrick | Gallagher | mm40 | 5 | 6KM | 23:19 | kiwi |
| 15 | 662 | 00:23:24 | joe | mace | mm40 | 6 | 6KM | 23:24 | tui |
| 16 | 654 | 00:23:27 | dave | gunn | mm50 | 6 | 6KM | 23:27 | Ruru |
| 17 | 710 | 00:23:41 | les | miller | mm40 | 7 | 6KM | 23:41 | kiwi |
| 18 | 713 | 00:23:46 | maria | bentley | SW | 1 | 6KM | 23:46 | ruru |
| 19 | 674 | 00:24:10 | iain | rattray | mm40 | 8 | 6KM | 24:10 | kahu |
| 20 | 701 | 00:24:15 | chris | keith | mm50 | 7 | 6KM | 24:15 | ruru |
| 21 | 652 | 00:24:16 | Malcolm | Smith | MM40 | 9 | 6KM | 24:16 | TGA Ramblers |
| 22 | 680 | 00:24:18 | malesa | mcnearney | sw | 2 | 6KM | 24:18 | Ruru |
| 23 | 688 | 00:24:20 | garry | wilson | mm50 | 8 | 6KM | 24:20 | kiwi |
| 24 | 657 | 00:24:32 | darryn | koppens | mm40 | 10 | 6KM | 24:32 | morrinsville |
| 25 | 707 | 00:25:05 | rodney | poulgrain | MM60+ | 1 | 6KM | 25:05 | thames |
| 26 | 705 | 00:25:27 | Dale | Fairbrother | MM50 | 9 | 6KM | 25:27 | Cambridge |
| 27 | 686 | 00:25:43 | mark | cornaga | mm50 | 10 | 6KM | 25:43 | kahu |
| 28 | 691 | 00:26:08 | craig | sinclair | mm40 | 11 | 6KM | 26:08 | cambridge |
| 29 | 656 | 00:26:42 | gavin | smith | MM60+ | 2 | 6KM | 26:42 | TGA Ramblers |
| 30 | 651 | 00:26:49 | Paul | Reynolds | MM40 | 12 | 6KM | 26:49 | Ruru |
| 31 | 685 | 00:26:59 | grant | kobus | mm50 | 11 | 6KM | 26:59 | cambridge |
| 32 | 693 | 00:27:24 | dave | clark | MM60+ | 3 | 6KM | 27:24 | kiwi |
| 33 | 702 | 00:27:53 | scott | nelson | mm40 | 13 | 6KM | 27:53 | cambridge |
| 34 | 647 | 00:28:29 | Vaughan | Swale | MM60+ | 4 | 6KM | 28:29 | Kiwi |
| 35 | 706 | 00:28:35 | Rolf | Boswell | MM40 | 14 | 6KM | 28:35 | Cambridge |
| 36 | 646 | 00:29:44 | Vaughan | Kestle | MM50 | 12 | 6KM | 29:44 | Tui |
| | | | | | | | | | |
| --- | --- | --- | --- | --- | --- | --- | --- | --- | --- |
| Place | RaceNo | TIME | Name | Surname | Grade | GdPl | Dist | Net Time | HOUSE/Club |
| 1 | 681 | 00:18:19 | charli | miller | gu18 | 1 | 5KM | 18:19 | kiwi |
| 2 | 689 | 00:19:33 | jemima | Antoniazzi | GU18 | 2 | 5KM | 19:33 | kahu |
| 3 | 661 | 00:21:51 | bridget | deverell | mw50 | 1 | 5KM | 21:51 | hawk new! |
| 4 | 676 | 00:23:14 | helen | hall-king | mw50 | 2 | 5KM | 23:14 | kahu |
| 5 | 660 | 00:23:29 | sandra | jensen | MW35 | 1 | 5KM | 23:29 | ruru |
| 6 | 711 | 00:23:30 | maureen | leonard | mw50 | 3 | 5KM | 23:30 | kiwi |
| 7 | 642 | 00:24:39 | Sophie | Harris | GU18 | 3 | 5KM | 24:39 | Ruru |
| 8 | 641 | 00:26:14 | Wendy | Fox | MW60+ | 1 | 5KM | 26:14 | Kiwi |
| 9 | 653 | 00:26:51 | Shona | Dewson | mw50 | 4 | 5KM | 26:51 | kiwi |
| 10 | 671 | 00:26:59 | kerry | rattray | mw35 | 2 | 5KM | 26:59 | kiwi |
| 11 | 697 | 00:27:34 | Kaye | sharp | mw50 | 5 | 5KM | 27:34 | tui |
| | | | | | | | | | |
| --- | --- | --- | --- | --- | --- | --- | --- | --- | --- |
| Place | RaceNo | TIME | Name | Surname | Grade | GdPl | Dist | Net Time | HOUSE/Club |
| 1 | 663 | 00:10:42 | joshua | cavanagh | BU14 | 1 | 3KM | 10:42 | Hinemoa |
| 2 | 678 | 00:10:46 | braeden | cambpell | BU16 | 1 | 3KM | 10:46 | tui |
| 3 | 665 | 00:12:27 | emily | ashley | GU16 | 1 | 3KM | 12:27 | Ramblers |
| 4 | 677 | 00:12:31 | zarah | rattray | GU14 | 1 | 3KM | 12:31 | tui |
| 5 | 644 | 00:12:32 | Gemma | horan | GU16 | 2 | 3KM | 12:32 | Kiwi |
| 6 | 695 | 00:12:38 | Bronwen | Rees-Jones | gu14 | 2 | 3KM | 12:38 | Cambridge |
| 7 | 709 | 00:13:24 | leo | chiplin | bu16 | 2 | 3KM | 13:24 | cambridge |
| 8 | 670 | 00:13:27 | madison | rattray | GU14 | 3 | 3KM | 13:27 | kahu |
| 9 | 649 | 00:14:20 | Jack | Charlton | BU14 | 2 | 3KM | 14:20 | Cambridge |
| | | | | | | |
| --- | --- | --- | --- | --- | --- | --- |
| Place | No | Time | Name | Dist | Grade | Club/House |
| 1 | 9 | 3.43 | Davis Sinclair | 1Km | BU10 | Camb |
| 2 | 11 | 4.02 | Zac Miller | 1Km | BU10 | Kiwi |
| 3 | 4 | 4.46 | Cory Brew | 1Km | BU10 | |
| 4 | 8 | 4.50 | Amber Rattray | 1Km | GU10 | Ruru |
| 5 | 1 | 4.53 | Jesse Smith | 1Km | BU10 | Tauranga |
| 6 | 14 | 6.18 | Connor Gibbison | 1Km | BU10 | Ruru |
| 1 | 10 | 7.50 | Matthew Sinclair | 2Km | BU12 | Camb |
| 2 | 3 | 8.10 | Annabel Chapman | 2Km | GU12 | Camb |
| 3 | 2 | 8.17 | Josh Smith | 2Km | BU12 | Tauranga |
| 4 | 7 | 8.32 | Layton Mace | 2Km | BU10 | Hawk |
| 5 | 12 | 8.40 | Liam Miller | 2Km | BU12 | Kahu |
| 6 | 5 | 9.14 | Charlie Gibberson | 2Km | BU12 | Hawk |
| 7 | 13 | 10.00 | Evan Rees-Jones | 2Km | BU12 | Cambridge |
| 8 | 6 | 10.09 | Thea Mace | 2Km | GU12 | Hawk |
https://hamiltoncityhawks.co.nz/wp-content/uploads/2019/06/Club-XC-Champs-2019_1.jpg
921
1382
Hawks | Admin
https://hamiltoncityhawks.co.nz/wp-content/uploads/2015/05/HamiltonCityHawks.png
Hawks | Admin
2019-06-22 18:15:27
2019-06-27 07:38:46
Club Cross Country Champs 2019 Results