Type: Off-road trail with stairs, technical trail and road running.
The Hakarimata Scenic Reserve is located 17 km north-west of Hamilton, near Ngaruawahia. It is a great place  to enjoy a walk or tramp through native bush, including kauri, in close proximity to Hamilton.
This is a good sharp training track for those wanting an offroad run with a challenge. Starting with the 1400 stairs that makes up the famous Hakarimata summit track then running down south along the Hakarimata rail trail then returning for a full loop along Waignaro Road.
The Hakarimata Summit track continues from the Waterworks Walk.
Follow the Waterworks Track to just before the dam where the track branches off to the right and climbs steeply up to meet the Hakarimata Walkway. The steps look foreboding, but the view at the top is well worth the effort. From the walkway junction, it is 5 mins to the right (north) to the summit (374 m above sea level). A new viewing tower provides 360o views of the surrounding countryside.
The Hakarimata Range includes 1,850 ha of native forest which is protected as a Scenic Reserve. There are three public access points to tracks within the reserve.
Hakarimata loop with summit platform is 8.33Km, +344m elevation and makes for great hill training.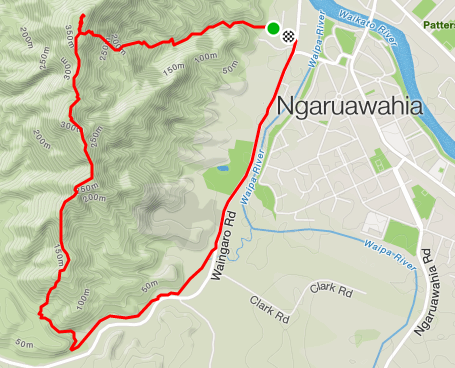 Extend the Run:
Do more laps. If you are training for long distance events then go around a few more times. Each lap gives you the opportunity to refuel, toilet stop and check-in with family or supporters.
How to get there:
The northern section starts from Parker Road, off Hakarimata Road, approx. 7 km south of Huntly and approx. 11 north of Ngaruawahia.
The southern section starts from Waingaro Road, off Hakarimata Road, approx. 3 km south of Ngaruawahia.
The track can also be accessed via the Hakarimata Summit Track. This track starts on Brownlee Avenue, off Hakarimata Road, approx. 1 km north of Ngaruawahia.  This track starts near the dam on the Waterworks Track. Head up the Waterworks Track, off Brownlee Avenue, off Hakarimata Road from Ngaruawahia.