Distance: 22km (There and back to start)
Type: 50/50 road and gravel
Old Mountain Road has been a staple in a long hilly run for many Hawks over the years. As an out and back course it starts with a few kilometers of road, then straight into steep uphill gravel. Climb to a height of 224m then start to descend via some smaller inclines into Waitetuna Valley and then to the school for the turn around point. Total elevation gain is 488m.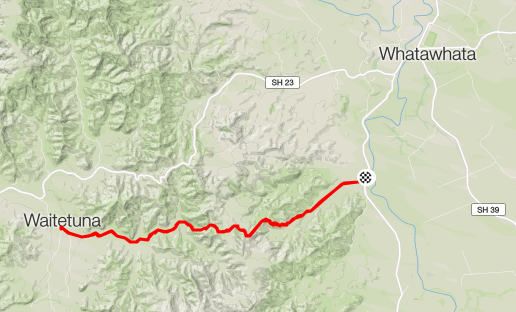 2
Turn around and head back to start
Extend the Run:
You can continue past Waitetuna School to extend the run on Waitetuna Valley Road.
How to get there:
From Hamilton head towards Raglan on SH 23, after you drive through Whatawhata, turn left onto Te Pahu Road, 4km down you will see Old Mountain Road on your right.  Parking is usually on the grass verge on Te Pahu road.