Auckland Marathon 2014 Results
Sunday started early at 4.20am, however today was no normal training day, today was race day. A lot of dedication and training has led me to this day, this opportunity, this challenge and this chance of doing a sub three marathon.
My morning routine takes over including breakfast, coffee and a bathroom visit… then its time to get suited up. Ryan flicks me a text,"10min away". The mind begins to race… this is it. I bundle myself into the car and join Phil and Ryan. Aimee zooms off to the planned meeting point. The car ride is full of nervous energy…
A quick discussion translates to another bathroom visit after which we coordinate with Hadley and its game time. A couple of quick stride outs and the countdown clock is down to 5 minutes… some handshakes and well wishes are exchanged, Phil, Ryan and Hadley are right up the front ready for action. I settle myself in a few rows back awaiting my most defining running day so far.
The first 12km are pretty uneventful. I practice my drink bottle pick up at the 4km, 8km and 11km aid stations, offer some banter to my supporters (including Jen, Mum and Dad) and continue on my quest. Time goes by pretty quickly.
It's the second year the course has gone over the city side of the Harbour Bridge and this is an absolute treat. I make a mental note to enjoy this moment while I can. I may just need this later on. The kilometres started adding up and next thing I know its halfway split time and I am on target, I feel good, and I know I am running within myself.
I pass my fantastic supporters again around the 23km, take my hat off to help the cooling and smile as I feel pretty good about my progress. Time to take control of this run I tell myself. I quickly focus on the guy in front and slowly start making progress through the field, maintaining a 4.10/4.15 pace.
I take heart in seeing the leading male returning from St Helier's, and the strung out nature of the athletes that follow, many with strain and pain all over their faces, knowing deep down that I too would be experiencing this today.
I see my running buddies in the distance coming toward me, Hadley, Phil and Ryan and we exchange encouragement with one another. My first thoughts are "Wow, they look so composed and relaxed", and I figured all was tracking well. Then I have a moment of solitude, here I was pounding it out on my own, working hard. What I would have given to enjoy some friendly banter that I was so used to sharing during our long Cambridge Hill runs.  This was not a time for mind wandering, back to the task at hand! I was still feeling pretty good at the turn at St Helier's, but I am aware that my overall body temperature was really starting to rise.
The inevitable happened at the 36km, all had been going so well, no real sign of fatigue and then I glance at my watch, 4.20… my mind starts to race, I think to myself right lets get this back on track, I glance down again 4.25… huh… how does that work? Right focus lets keep this going, I glance a third time 4.30! Ok… it's happening, legs are turning to concrete. My cardio feels great, but cardio won't get you over the line, the legs must keep going. I set myself a focus of 4.25, as I knew I had a little time in the bank to go sub three. The next 4km were pretty tough, managing to pound out 4.20/4.25, and with 2km to go I still felt pretty good about reaching my goal. The maths in my head told me I was still tracking well, why I was doing maths in my head when I had a race band I have no idea… the brain was not in its finest hour.
As I come around the penultimate corner and hear the announcer say "1 minute left for sub 3… Let's count it down!" I begin to panic. I know the finish straight is a good 200m long and I still have to get to the finish straight… time to make this happen. I dig deep, real deep, and find some resolve and get some momentum going. I pass my fantastic supporters again! They are literally screaming at me. They know how much this means… I hit the last 200m and pile on the gas. I am sure it didn't look elegant, and it definitely wasn't pretty, but I made it 2.59.51 on the clock! I am standing a little shocked that I had left it so late and nearly missed my goal. First person I see is Hadley, standing at the finish, huge smile on his face "It's never easy" he says. I laugh… talk about leaving it late!
The next hour is made up of bananas, powerade and some sharing of the mornings work. Hadley, Phil and Ryan all had great races, Hadley knocking a massive 30 seconds off his PB and Ryan cracking the 2.45 mark and with it a massive 6 minute PB. As with all big events many Hawks were racing Auckland Marathon and the half. I am sure there are many tall stories and wicked tales to share over a beer this summer.
I hope you all had a memorable day and achieved what you had been working towards.
Cheers, Sam Le Heron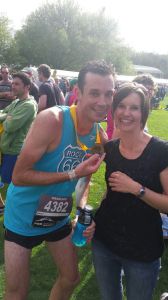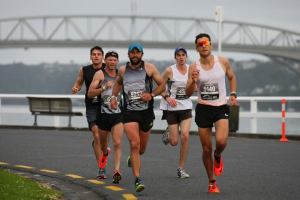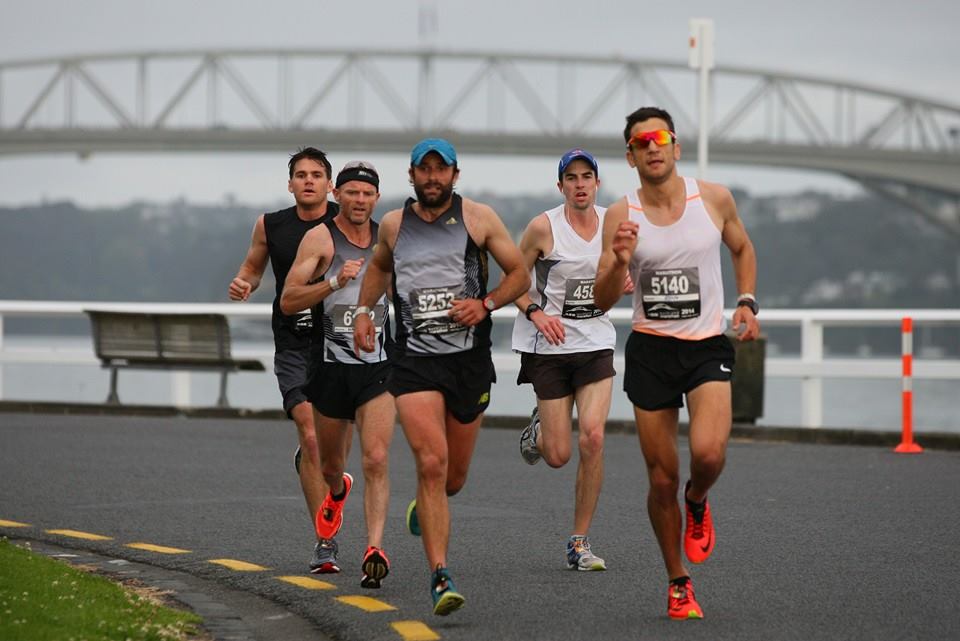 Left Photo: Sam Le Heron   Right Photo: Hadley, Phil and Ryan
Full Marathon:
Phil Murray
 2.44.35 (Hadley's Pacer)
Hadley Craig
2.44.41 (3rd age group)
Ryan Stacey
2.44.56
Sam Le Heron
2.59.48
Katie Stone
3.27.13
Lisa Joblin
3.40.12
Sandra Jenson
3.47.30
Bridget McLaughlin
4.23.50
Half Marathon:
Tim Stewart
 1.11.36 (5th place)
Camille Buscomb
1.15.49 (1st)
Grant Budd
1.25.48
Karen Hopson
1.40.08 (3rd age group)
Fiona Goddard
1.40.09
Ellie Broadbridge
 1.50.31
Kaye Sharp
1.53.46
Shanel Cornille
1.55.28 (Pacer)
Terry Hannett
2.29.01
https://hamiltoncityhawks.co.nz/wp-content/uploads/2014/11/Akld-Marathon-2014.jpg
641
960
Hawks | Admin
https://hamiltoncityhawks.co.nz/wp-content/uploads/2015/05/HamiltonCityHawks.png
Hawks | Admin
2014-11-02 16:30:34
2014-11-05 21:18:45
Auckland Marathon 2014 Results