Rotorua Marathon 2015 Results
Every Monday night a group of ladies meets under the coaching of Helen Hall-King to run and train together.  We aren't particularly fast, and will probably never take a place on the podium stand, but we are motivated and we do have goals.  One such goal was to run in the Rotorua Half Marathon event this past Saturday.
We had done the training, including the hills, the speed work and of course the long runs and, as Mike so eloquently said to me the day before – 'You have done the work so it is now just a matter of execution. Keep calm and you can do it'.
Despite having some pre-race niggles in my leg all week I was surprisingly calm on the day and after some last minute motivation from Helen I lined up next to my fellow Monday night runner Michelle Greenwood, knowing that Robyn Smith would be lined up a little further back and hopefully as ready as we were to get started.  The starting gun went off and away we went, feeling pretty glad to get the first kilometre completed and settle into a good race pace.
I was feeling really good and it was great to see Helen at the 6km point cheering us on and again as we came through the 9km point and headed off towards the airport.  The pace felt comfortable and Michelle and I were feeling great.  It was about the 11km mark that things started to go a little wonky for me and I knew that I was going to have to adjust my pre-race time goal.  I just wasn't feeling right and no matter how much I tried to focus I couldn't shake an awful dizziness that had come over me.  At 12km I suggested to Michelle that she go for it and leave me as I was struggling and didn't want to hold her back.
The next 9km were some of the most difficult kilometres I have ever done.  I knew I couldn't make my sub 2 hour goal anymore but I was damn well going to finish even if I had to crawl over the finish line.  I was grateful to have Helen run alongside me for a little bit at the 15km point and calm me down and try to keep me focused. At one point I passed an ambulance and was extremely tempted to crawl inside it but I knew I could finish and I kept thinking of all the training I had done and all the support I had received from Helen and Mike and it kept me going step by step to the finish.  I even managed to do a (semi) sprint down the finishing chute.
Despite the disappointment of my run I can celebrate in the fact that I didn't give up. I finished and I still did a PB over that distance. To top it all off it was awesome to find out that Michelle had done a sub 2 hour race and that Robyn had run much better that she had anticipated and was thrilled with her finishing time.
So as I write this I can think that in just over an hour I will be back out on the streets with the Monday night running ladies and we will put one foot in front of the other no matter how slow and we will set new goals….and I will plan how I can be back in Rotorua a year from now and not let it get the better of me.
Report by Wendy Harris
The Rotorua marathon was on and several Hawks ran in it. My mat time was 3:30:52 – all times can be found on the website. There was quite a strong headwind after the last hill around 30km which may have contributed to a few people not being too happy with their results. Me, well, I'm happy with my time but was in damage control pain for the last 8km.
Report by Dave Melville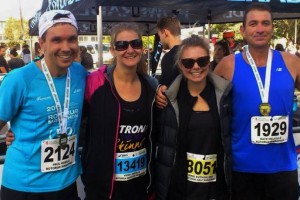 Above: Paul Nobilo, Vicki Parkin, Amie Sutherland, Dave Melville
Some Hawks spotted by Glenn:
Marathon
Chris Smith 2.59.43
Jason Cameron 3.00.21
Sam Le Heron 3.00.50
Kovo MacDonald 3.04 14
Hadley Craig (pacing) 3.06.13
Dion Hardy 3.08
Ants Hancy (pacing) 3.14
Troy Flavell 3.27
Martin Ferry 3.29
Dave Melville 3.31
Evan Primmer 3.52
Clare Montgomery 3.52
Brian Halford 3.56
Half Marathon
Tim Stewart 1.08 (1st, above)
Ryan Stacey 1.15
Mike Brightwell 1.38
Jean Dorrell 1.45
Wendy Harris 2.07
10k
Brooke Shepherd Wright 42m (1st female)
Shanel Cornille 43m (2nd female)
Vicki Parkin 55:48
Full results of Rotorua Marathon events here.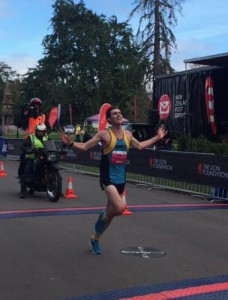 Tim Stewart winning the half in 1.08
https://hamiltoncityhawks.co.nz/wp-content/uploads/2015/05/RotoruaMarathon2015-e1431064219828.jpg
217
325
Hawks | Admin
https://hamiltoncityhawks.co.nz/wp-content/uploads/2015/05/HamiltonCityHawks.png
Hawks | Admin
2015-05-02 16:30:55
2015-05-08 17:54:26
Rotorua Marathon 2015 Results