Saturday was our annual clash with the Calliope Club – up in Birkenhead this year, and the 85th year of this fixture.
Twelve Hawks runners made the trip up, eleven sharing the minibus, and joined by new member Gilbert who made his own way (eventually arriving just after the race start). After resisting the call from the girls in the back to skip the run and go shopping at Sylvia Park we got there in time to have a quick warm up and briefing on the newly designed course (Council improvements had taken away the familiar "swamp" par of the course).
Hawks took the main placing with John, Lance & Kevin heading the field, and Maureen coming in as the first woman (Helen deciding to do the full 3 lap course for the men's race). The new course gained everyone's approval.
Back at the Calliope clubrooms we enjoyed the usual excellent hospitality of the Calliope Club whilst they worked through the calculations for the final result, which ended up being far closer than we had expected. We managed to bring the Patterson Cup back with us by a single point.
By John Crane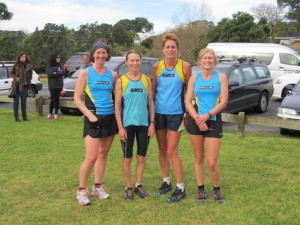 Report and Results from Bruce McLean at Calliope Club
Dry, mild conditions, ground firm but spongy on most grass areas.  A new course had to be designed as Council landscaping and improvements to the park had made one part of the original unsuitable.  The new course prevented comparisons with times in previous years.
The Patterson Cup was first competed for in 1930 and has been held every three years since apart from three years during the War.  It is one of the oldest inter-club competitions in NZ and likely the oldest in the North Island.
32 competed but that included a couple not eligible for points.  The points were allocated by grades counting down from the number in the smallest team plus one.  Males ran three laps of approx. 1.8km each lap, females two laps, the walker two laps.  The kids were going to be doing one lap but the boys wanted to run three so did so (but were scored as seniors, this was decided before the race) and Natasha ran two laps.  Helen carried on and ran three laps (not two) but her time 22:35 for three laps would have put her in second if two laps so her points were allocated as if she had stopped at two.  Hamilton scored a win with 35 points to 31.  Thanks to Megan and Murray for recording and time-keeping.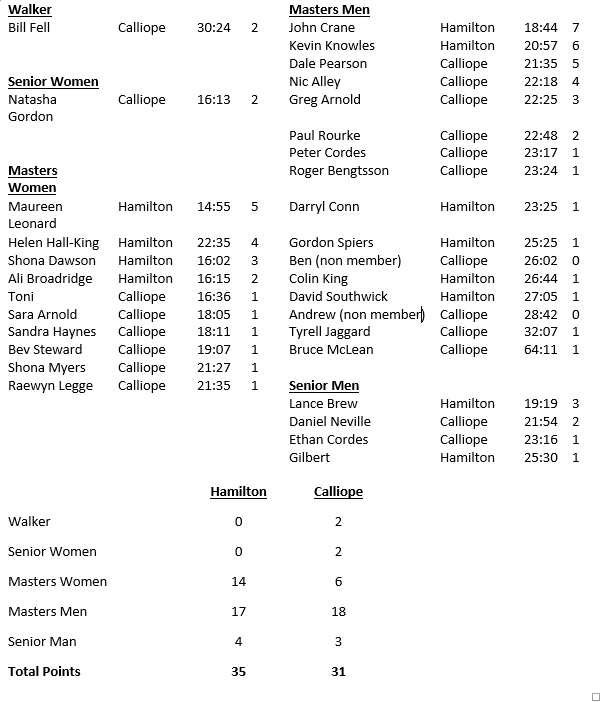 https://hamiltoncityhawks.co.nz/wp-content/uploads/2014/06/Calliope2_2014.jpg
480
640
Hawks | Admin
https://hamiltoncityhawks.co.nz/wp-content/uploads/2015/05/HamiltonCityHawks.png
Hawks | Admin
2014-06-07 16:30:14
2019-11-15 06:46:31
Calliope – Patterson Cup 2014 Results