Dudfield Duathlon 2017 Results
This years edition produced stellar performances from 13 (2 5kers and 11 finely tuned duathletes) in ok but slightly windy conditions. Attire ranged from scruffy and last minute (Glenn) to pro (like Andrew) with all sorts in between, including a fancy Lululemon skirt, and the bikes of similar variety. Brooke tried to draw everybody into a false sense of security by posting in Facebook the night before of her bike looking a little neglected and not very ready for the race, but she did well.
The format was a 2.5k run (x 2 for the 5k run), a 12k ride and another 5k run from Glenview Club on Peacockes Road. Typical banter was exchanged pre race. "Your seat looks a bit low there Shona", "Ooh you're going to find it tough with those knobbly wheels there Glenn". "Bugger, I flushed my keys down the toilet just before leaving" was probably the best from a person who shall remain nameless but I will refer to him as AW the Aussie.
The race ended up pretty much a time trial so I can't really comment on everybody but for me the feature was the effort needed to hop off a bike a try and run the final 2.5k. I was puffing as if I was running 3 min ks but my form suggested I was running 6s. Definitely not running tall or economically, but with Lance chatting away beside me I managed to do the same time as my first leg at about 4 min ks.
Special awards go to:
Andrew Wark – Flashest, first man and looking fit for the Worlds in Amsterdam in September
Brooke Shepherd Wright – First lady and fooled no one with her Facebook post
Glenn Sexton – Scruffiest, first to finish on a kid's bike with knobbly tires, a bike stand and only just missing a basket and handlebar tassles.
Kevin Knowles – First hybrid bike, person with the closest run splits, each being bang on 10.00
Shona Dewson – First MTB and best looking skirt
Thanks Graham for setting it up. It is a very light hearted and fun way to exercise.
| | | | | | | |
| --- | --- | --- | --- | --- | --- | --- |
| Place | Name | Surname | Lap 1 | Lap2 | Lap3 | Final |
| 5  KM | | | | | | |
| 1 | Lance | Brew | 08:59 | 09:21 | | 18:20 |
| 2 | Katy | Dawson | 10:06 | 10:00 | | 20:06 |
|  Duathlon | | | | | | |
| 1 | Andrew | Wark | 09:06 | 21:04 | 09:08 | 39:18 |
| 2 | Adam | McCarthy | 09:20 | 20:47 | 10:34 | 40:41 |
| 3 | Kris | Moore | 09:31 | 21:59 | 09:15 | 40:45 |
| 4 | Craig | McCarthy | 10:29 | 22:04 | 10:45 | 43:18 |
| 5 | Mike | Harris | 09:48 | 24:08 | 10:22 | 44:18 |
| 6 | Glenn | Sexton | 09:48 | 26:13 | 09:57 | 45:58 |
| 7 | Kevin | Knowles | 10:00 | 26:30 | 10:00 | 46:30 |
| 8 | Evan | Primmer | 12:44 | 25:30 | 13:14 | 51:28 |
| 9 | Brooke | Shepherd Wright | 11:48 | 29:35 | 11:01 | 52:24 |
| 10 | Maureen | Leonard | 12:36 | 29:37 | 11:14 | 53:27 |
| 11 | Shona | Dewson | 13:12 | 35:39 | 12:26 | 1:01:17 |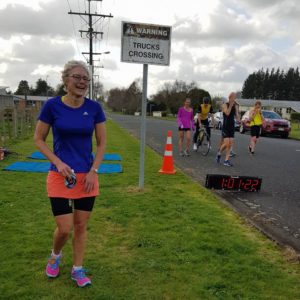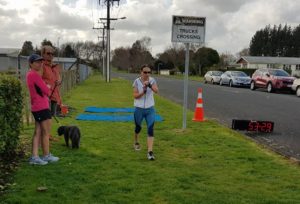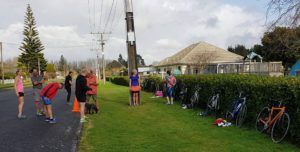 https://hamiltoncityhawks.co.nz/wp-content/uploads/2017/08/Dudfield-Duathlon-1.jpg
485
960
Hawks | Admin
https://hamiltoncityhawks.co.nz/wp-content/uploads/2015/05/HamiltonCityHawks.png
Hawks | Admin
2017-08-12 16:30:29
2017-08-18 15:30:41
Dudfield Duathlon 2017 Results