WaiBOP Road Champs 2017 Results
Results from WaiBOP Road Champs 2017
Hawks photos can be viewed on Flickr via link below:
https://www.flickr.com/photos/hamiltoncityhawks/albums/72157685330927663
This last weekend the provincial champs were held locally and there was a big muster of Hawks taking part. A hard road race each week is vital to get our teams ready for the national road champs relay champs. Firstly congrats to Glenn Sexton and his organising team which was a biggee for the club to organise. I must praise the course select ion on a quiet rural road which was largely traffic free and provided a firm smooth running surface. Huge thanks to Graham D for results and to Malesa McNearny, Mike Harris and team on the food stall. Our club members picked up many centre titles so well done to all. Jemima Antionazzi was a clear winner of the 2.5km G15 race with a 8.57 time while Gemma Horan was 5 th in 10.27. Jemima has made herself available for selection to the Junior women's road relay team which makes it even stronger. Emerson Deverell clocked a quick 17.54 for her 5km W20 race on a course that was exposed to the wind. Sam Corbett picked up silver in the G18 5km with a 19.42 time while Georgia Crane was 3 rd in 22.14.
The Masters Women also raced over 5km and all showed their class winning a bunch of medals. Katy Dawson running her first race for some time was the quickest of the prospective relay team winning the Masters Women 40 grade with 19.43 and being followed closely by Bridget Deverell 1 st MW50 19.51, Bridget Ray 1st MW55 20.16, Marion Millward 2 nd MW55 21.36, Helen Hall-King 2 nd MW50 21.46, Karyn McCready 1 st MW45 21.52. This group who have been perennial medallists at the national road relays in the past once again look in strong shape with six weeks to go. Isaiah Priddey 1 st M20 clocked 24.36 for his 7.5km. The M18 raced over 5km and 2 nd was Connor Tristram with 16.30 Mathijis Wetzels racing up a grade ran superbly and placed 3 rd with 17.02. Sam Montgomerie was 5 th with 17.18 while William Swales was 7 th in 17.58.
The highly competitive Masters Men saw some solid results that auger well for the NRR. Mike Causer had to hustle to head off Gavin Butler to win the MM45 grade by a second 36.20 to 36 21. Andrew Wark was next Hawks member to finish with 36.44 to win silver in the MM50. Chris Smith won the MM55 with 37.02, Marc Scott was 4 th MM45 with a time of 38.06. John Crane with 37.25 took 3 rd in MM50 while Chris Keith took bronze in the MM55 and Kevin Knowles was 4 th MM55 with 40.13. Among the senior men Russ Best ran 32.22 for silver while Lance Brew ran 36.08 for 1 st MM35.
It was great to see Jacob Priddey back from USA and racing again in Hawks colours he took 3 rd in the SM 10km with 32.54. Other Hawks in the same race were 6 th Jai Davis-Campbell 34.23, Malcolm King 7 th 35.41, Reubin Tomlinson 2 nd MM35 with 36.53, Sunil Ritchie-Fernandez 8 th 39.51 and Jack Montgomerie 41.27. In the Senior Women Cecilia Flori ran a PB 39.09 for 4 th a much shorter distance for her than normal. Malesa McNearney took 40.05 for her race and 5 th while Dawn Tuffery was 7 th in 44.45.
All in all an interesting days road racing which was concluded without an approaching thunderstorm dumping its load on the races. The dreaded flu has hit a number and resulted in no shows to club stalwarts. Thanks also to Jai for his free post race Moa beers. Much appreciated by all.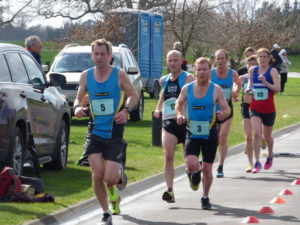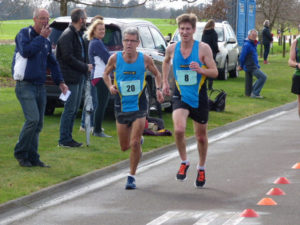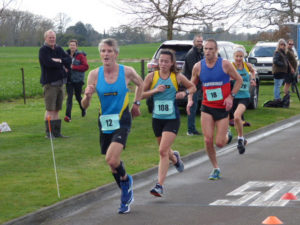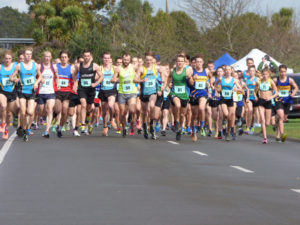 | | | | | | | | | | | |
| --- | --- | --- | --- | --- | --- | --- | --- | --- | --- | --- |
| Place | RaceNo | Time | Name | Surname | Reg | Club/Town | Gender | GRADE | GdPl | Dist |
| 1 | 45 | 32:14 | Hayden | Wilde | NOT REG | Whakatane | Male | SM | 1 | 10km |
| 2 | 37 | 32:22 | Russ | Best | Y | Hamilton City Hawks | Male | SM | 2 | 10km |
| 3 | 44 | 32:54 | Jacob | Priddey | NOT REG | Hamilton City Hawks | Male | SM | 3 | 10km |
| 4 | 42 | 33:13 | Jonathan | Mckee | N – Visitor | Pakuranga | Male | SM | 4 | 10km |
| 5 | 40 | 33:22 | Craig | Kirkwood | NOT REG | Tauranga Ramblers | Male | SM | 5 | 10km |
| 6 | 41 | 33:41 | Kyle | Macdonald | Y | Tauranga Ramblers | Male | SM | 6 | 10km |
| 7 | 98 | 34:25 | Jai | Davies-Campbell | y | Hamilton City Hawks | Male | SM | 7 | 10km |
| 8 | 113 | 35:41 | Malcolm | King | | Hamilton | Male | SM | 8 | 10km |
| 9 | 96 | 35:46 | Regan | Bones | | Tauranga Ramblers | Male | SM | 9 | 10km |
| 10 | 114 | 37:43 | Max | Gordon | | No club | Male | SM | 10 | 10km |
| 11 | 38 | 39:51 | Sunil | Fernandez-Ritchie | Y | Hamilton City Hawks | Male | SM | 11 | 10km |
| 12 | 39 | 40:02 | Cameron | Hall | Y | Hamilton City Hawks | Male | SM | 12 | 10km |
| 13 | 43 | 41:27 | Jack | Montgomerie | SOCIAL | Hamilton City Hawks | Male | SM | 13 | 10km |
| 1 | 3 | 36:08 | Lance | Brew | Y | Hamilton City Hawks | Male | MM35-39 | 1 | 10km |
| 3 | 22 | 36:53 | Reuben | Tomlinson | Y | Hamilton City Hawks | Male | MM35-39 | 3 | 10km |
| 4 | 17 | 46:14 | Mark | Searle | SOCIAL | Cambridge Harriers | Male | MM35-39 | 4 | 10km |
| 1 | 13 | 35:56 | Adrian | Lysaght | Y | Lake City | Male | MM40-44 | 1 | 10km |
| 2 | 6 | 38:15 | John | Charlton | Y | Cambridge Harriers | Male | MM40-44 | 2 | 10km |
| 3 | 19 | 39:17 | Stewart | Simpson | Y | Tauranga Ramblers | Male | MM40-44 | 3 | 10km |
| 4 | 23 | 41:57 | Andrew | Twiddy | Y | Lake City | Male | MM40-44 | 4 | 10km |
| 5 | 2 | 41:58 | Zaheer | Bhikoo | Y | Cambridge Harriers | Male | MM40-44 | 5 | 10km |
| 6 | 21 | 42:19 | Paul | Stinton | Y | Cambridge Harriers | Male | MM40-44 | 6 | 10km |
| 1 | 5 | 36:20 | Michael | Causer | Y | Hamilton City Hawks | Male | MM45-49 | 1 | 10km |
| 2 | 4 | 36:21 | Gavin | Butler | Y | Hamilton City Hawks | Male | MM45-49 | 2 | 10km |
| 3 | 7 | 37:07 | Dean | Chiplin | Y | Cambridge Harriers | Male | MM45-49 | 3 | 10km |
| 4 | 109 | 38:06 | Marc | Scott | y | Hamilton | Male | MM45-49 | 4 | 10km |
| 5 | 18 | 41:13 | Paul | Signal | Y | Cambridge Harriers | Male | MM45-49 | 5 | 10km |
| 6 | 25 | 44:30 | Craig | Sinclair | Y | Cambridge Harriers | Male | MM45-49 | 6 | 10km |
| 7 | 116 | 54:53 | Chris | Bycroft | | Lake City | Male | MM45-49 | 7 | 10km |
| 1 | 106 | 36:24 | Tony | Broadhead | | Lake City | Male | MM50-54 | 1 | 10km |
| 2 | 112 | 36:44 | Andrew | Wark | y | Hamilton | Male | MM50-54 | 2 | 10km |
| 3 | 8 | 37:25 | John | Crane | Y | Hamilton City Hawks | Male | MM50-54 | 3 | 10km |
| 4 | 107 | 38:50 | Chris | Corney | | Lake City | Male | MM50-54 | 4 | 10km |
| 5 | 15 | 41:33 | Steve | O'Callaghan | NOT REG | Unaffiliated | Male | MM50-54 | 5 | 10km |
| 6 | 14 | 58:56 | Gilbert | Macdonald | SOCIAL | Hamilton City Hawks | Male | MM50-54 | 6 | 10km |
| 1 | 20 | 37:02 | Chris | Smith | Y | Hamilton City Hawks | Male | MM55-59 | 1 | 10km |
| 2 | 104 | 37:34 | Bruce | Edwards | | Lake City | Male | MM55-59 | 2 | 10km |
| 3 | 10 | 39:55 | Chris | Keith | Y | Hamilton City Hawks | Male | MM55-59 | 3 | 10km |
| 4 | 12 | 40:13 | Kevin | Knowles | Y | Hamilton City Hawks | Male | MM55-59 | 4 | 10km |
| 1 | 94 | 44:10 | Trevor | Ogilvie | y | Lake City | Male | MM65-69 | 1 | 10km |
| 2 | 1 | 46:51 | Graeme | Adams | Y | Lake City | Male | MM65-69 | 2 | 10km |
| 3 | 11 | 49:58 | Colin | King | SOCIAL | Hamilton City Hawks | Male | MM65-69 | 3 | 10km |
| 1 | 16 | 55:11 | Robin | Reed | Y | Whakatane | Male | MM70-74 | 1 | 10km |
| 1 | 95 | 1:04:00 | Peter | Vyver | y | Lake City | Male | MM75 | 1 | 10km |
| | | | | | | | | | | |
| --- | --- | --- | --- | --- | --- | --- | --- | --- | --- | --- |
| Place | RaceNo | Time | Name | Surname | Reg | Club/Town | Gender | GRADE | GdPl | Dist |
| 1 | 47 | 36:27 | Sally | Gibbs | Y | Athletics Tauranga | Female | SW | 1 | 10km |
| 2 | 46 | 37:04 | Sarah | Gardner | Y | Tauranga Ramblers | Female | SW | 2 | 10km |
| 3 | 49 | 37:16 | Alice | Mason | Y | Cambridge Harriers | Female | SW | 3 | 10km |
| 4 | 51 | 38:09 | Jess | Walley | NOT REG | CK Coaching | Female | SW | 4 | 10km |
| 5 | 92 | 39:09 | Cecilia | Flori | y | Hamilton City Hawks | Female | SW | 5 | 10km |
| 6 | 108 | 40:05 | Malesa | McNearney | y | Hamilton | Female | SW | 6 | 10km |
| 7 | 48 | 41:19 | Megan | Grant | Y | Lake City | Female | SW | 7 | 10km |
| 8 | 50 | 44:45 | Dawn | Tuffery | Y | Hamilton City Hawks | Female | SW | 8 | 10km |
| 9 | 100 | 45:23 | Andrea | Neal | | Tauranga | Female | SW | 9 | 10km |
| | | | | | | | | | | |
| --- | --- | --- | --- | --- | --- | --- | --- | --- | --- | --- |
| Place | RaceNo | Time | Name | Surname | Reg | Club/Town | Gender | GRADE | GdPl | Dist |
| 1 | 36 | 24:36 | Isaiah | Priddey | Y | Hamilton City Hawks | Male | MU20 | 1 | 7.5 km |
| 2 | 111 | 26:53 | Hikaru | Mita | | Hamilton | Male | MU20 | 2 | 7.5 km |
| 1 | 24 | 31:17 | Terry | Hannett | SOCIAL | Hamilton City Hawks | Male | MM65-69 | 1 | 7.5 km |
| | | | | | | | | | | |
| --- | --- | --- | --- | --- | --- | --- | --- | --- | --- | --- |
| Place | RaceNo | Time | Name | Surname | Reg | Club/Town | Gender | GRADE | GdPl | Dist |
| 1 | 34 | 21:33 | Krissy | Tanner | NOT REG | Tauranga Ramblers | Female | MW35-39 | 1 | 5km |
| 2 | 115 | 22:49 | Charlotte | Bartrum | | Tauranga | Female | MW35-39 | 2 | 5km |
| 1 | 101 | 19:43 | Katy | Dawson | | Hamilton | Female | MW40-44 | 1 | 5km |
| 2 | 33 | 20:53 | Vicki | Rees-Jones | Y | Cambridge Harriers | Female | MW40-44 | 2 | 5km |
| 3 | 105 | 23:44 | Sian | Twiddy | | Lake City | Female | MW40-44 | 3 | 5km |
| 1 | 30 | 21:52 | Karyn | Mccready | Y | Hamilton City Hawks | Female | MW45-49 | 1 | 5km |
| 1 | 26 | 19:50 | Bridget | Deverell | Y | Hamilton City Hawks | Female | MW50-54 | 1 | 5km |
| 2 | 27 | 21:46 | Helen | Hall-King | SOCIAL | Hamilton City Hawks | Female | MW50-54 | 2 | 5km |
| 1 | 32 | 20:16 | Bridget | Ray | Y | Hamilton City Hawks | Female | MW55-59 | 1 | 5km |
| 2 | 31 | 21:36 | Marion | Millward | Y | Hamilton City Hawks | Female | MW55-59 | 2 | 5km |
| 3 | 35 | 49:53 | Dianne | Barrett-Kendall | SOCIAL | Lake City | Female | MW55-59 | 3 | 5 kmWalk |
| 1 | 28 | 25:13 | Kathy | Howard | Y | Lake City | Female | MW65-69 | 1 | 5km |
| 1 | 93 | 18:46 | Olivia | Cummings | n | | Female | U18W | 1 | 5km |
| 2 | 87 | 19:26 | Gemma | Baldey | Y | Whakatane | Female | U18W | 2 | 5km |
| 3 | 88 | 19:42 | Samantha | Corbett | Y | Hamilton City Hawks | Female | U18W | 3 | 5km |
| 4 | 89 | 22:14 | Georgia | Crane | Y | Hamilton City Hawks | Female | U18W | 4 | 5km |
| 1 | 90 | 17:54 | Emerson | Deverell | Y | Hamilton City Hawks | Female | U20W | 1 | 5km |
| 1 | 99 | 36:24 | Brendan | Gibbs | | Tauranga | Male | MM35-39 Walk | 1 | 5 kmWalk |
| 1 | 81 | 15:41 | Samuel | Tanner | Y | Tauranga Ramblers | Male | MU18 | 1 | 5km |
| 2 | 82 | 16:30 | Connor | Tristram | Y | Hamilton City Hawks | Male | MU18 | 2 | 5km |
| 3 | 83 | 17:02 | Mathijs | Wetzels | Y | Hamilton City Hawks | Male | MU18 | 3 | 5km |
| 4 | 84 | 17:05 | William | Sinclair | Y | Cambridge Harriers | Male | MU18 | 4 | 5km |
| 5 | 79 | 17:18 | Sam | Montgomerie | Y | Hamilton City Hawks | Male | MU18 | 5 | 5km |
| 6 | 86 | 17:28 | Zac | Bellamy | Y | Cambridge Harriers | Male | MU18 | 6 | 5km |
| 1 | 97 | 17:48 | Harrison | Fountain | N | 00:00 | Male | MU18 | 1 | 5 km |
| 7 | 80 | 17:58 | William | Swales | Y | Hamilton City Hawks | Male | MU18 | 7 | 5km |
| 8 | 85 | 19:37 | Joseph | Sinclair | Y | Cambridge Harriers | Male | MU18 | 8 | 5km |
| 9 | 110 | 21:08 | Maysen | Greenwood | | St Peters | Male | MU18 | 9 | 5km |
| 10 | 78 | 21:45 | Apache | Davidson | Y | Lake City | Male | MU18 | 10 | 5km |
| | | | | | | | | | | |
| --- | --- | --- | --- | --- | --- | --- | --- | --- | --- | --- |
| Place | RaceNo | Time | Name | Surname | Reg | Club/Town | Gender | GRADE | GdPl | Dist |
| 1 | 71 | 08:57 | Jemima | Antoniazzi | Y | Hamilton City Hawks | Female | U15G | 1 | 2.5Km |
| 2 | 73 | 09:17 | Morgan | Overington | Y | Whakatane | Female | U15G | 2 | 2.5Km |
| 3 | 70 | 09:19 | James | Swan | Y | Cambridge Harriers | Male | U15B | 1 | 2.5Km |
| 4 | 74 | 09:40 | Krystie | Solomon | Y | Frankton | Female | U15G | 3 | 2.5Km |
| 5 | 75 | 09:49 | Summar | Tanner | NOT REG | Tauranga Ramblers | Female | U15G | 4 | 2.5Km |
| 6 | 69 | 09:55 | Oliver | Ashburn | Y | Whakatane | Male | U15B | 2 | 2.5Km |
| 7 | 72 | 10:27 | Gemma | Horan | Y | Hamilton City Hawks | Female | U15G | 5 | 2.5Km |
| | | | | | | | | | |
| --- | --- | --- | --- | --- | --- | --- | --- | --- | --- |
| Place | Time | Name | Surname | Reg | Club/Town | Gender | GRADE | GdPl | Dist |
| 1 | 08:32 | Jasmine | Davis | Y | Cambridge Harriers | Female | U11G | 1 | 2 km |
| 2 | 09:06 | Bronwyn | Rees-Jones | Y | Cambridge | Female | U11G | 2 | 2 km |
| 3 | 09:41 | Tyla | wallis | Y | Tokoroa | Female | U11G | 3 | 2 km |
| 4 | 11:53 | Rachel | Sinclair | Y | Cambridge Harriers | Female | U11G | 4 | 2 km |
| 1 | 07:59 | Flynn Speedy | Wilson | Y | Fairfield | Male | U11B | 1 | 2 km |
| 2 | 08:18 | Matthew | Sinclair | Y | Cambridge Harriers | Male | U11B | 2 | 2 km |
| 3 | 09:05 | David | Sinclair | Y | Cambridge Harriers | Male | U11B | 3 | 2 km |
| 4 | 09:13 | Blake | Davis | Y | Cambridge Harriers | Male | U11B | 4 | 2 km |
| 1 | 07:12 | Ian | Pugh | Y | Tauranga Ramblers | Male | U13B | 1 | 2 km |
| 2 | 07:16 | Liam | Davis | Y | Cambridge Harriers | Male | U13B | 2 | 2 km |
| 3 | 07:19 | Elliott | Pugh | Y | Tauranga Ramblers | Male | U13B | 3 | 2 km |
| 4 | 07:52 | Daniel | Sinclair | Y | Cambridge Harriers | Male | U13B | 4 | 2 km |
| 5 | 08:44 | Ryan | Nelson | Y | Cambridge Harriers | Male | U13B | 5 | 2 km |
| 6 | 09:22 | Jack | Charlton | Y | Cambridge Harriers | Male | U13B | 6 | 2 km |
https://hamiltoncityhawks.co.nz/wp-content/uploads/2017/08/WaiBOP-Road-Champs-2017_1.jpg
480
640
Hawks | Admin
https://hamiltoncityhawks.co.nz/wp-content/uploads/2015/05/HamiltonCityHawks.png
Hawks | Admin
2017-08-19 16:30:35
2017-08-23 20:04:38
WaiBOP Road Champs 2017 Results