Hawks End of Year Prize Giving 2013 Results
Last Saturday night the annual Hawks Prizegiving dinner was held at the club rooms. There was a great turnout with a good mix of juniors, oldies and everyone in between.
Congratulations to all those members who took home trophies for their achievements this year. A special mention for Mike Harris who was awarded the Harrier of the Year for all his contributions to the club and most improved veteran. Along with Lance Brew – most improved senior man, Kovo Kowalewsla – most improved senior women, Ellie Broadbridge most improved masters women and Mary Bollen and Theunis Pieters – most improved juniors. The Keith Trow Memorial for best individual performance of the year went to Helen Rountree.
Thank you to Dave Southwick and Trish Stockman for organising a great evening and also to Jenni Hoogeveen for a very delicious dessert and impressive cake, complete with the Hawks logo.
Wendy Harris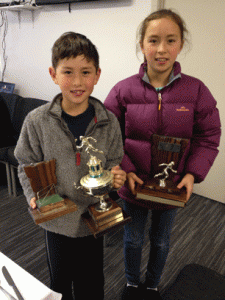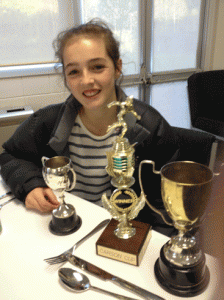 Hawks  Trophy list 2013

Trophy Day
Cameron Cup 1st Woman – Jean Dorrell
Chandler Cup 1st New member – Wendy Harris
Cotterell Cup   1st male – Stephen Pitts
Ready Cup   1st new male – Dave Melville
Gichrist Rosebowl
Colin King, Dave Southwick, John Crane
Club Captains Trophy  Fastest Male – John Crane
Marshall Cup Fastest Female – Helen Hall King
Bannister Plaque
Grant Budd, Darryl Conn, Ken Johnson
Club Cross country champs
LG Turner Cup 1st SM  – Kerry Suter
Sutton Cup  2nd SM – Garit Read
Gamble Cup SM sealed handicap –  Brendan Woolerton
Hensall Cup 1st M20 – Jacob Priddey
Goldbury Cup   2nd M20 – Theunis Pieters
Cain Sheild  1st M18 – Cameron Swales
Cranston Cup Sealed Handicap M18/20 – Harry Ewing
Pat wood Trophy  1st MM40 – Kent Hodgson
Mayall trophy  M40 Sealed Handicap – Kevin Knowles
Gordon speirs Trophy  1st MM50 – Kevin Knowles
John Sherson Trophy  1st MM60 – Colin King
New Cup 1st W18 – Arianna Lord
Neeco Cup 1st W20 – Mary Bollen
Sealed Handicap W18/20 – Mary Bollen
Graham trophy   1st SW – Helen Rountree
Sealed Handicap SW – Katie Stone
Clarke Cup 1st MW35 – Katy Dawson
VW Trophy  MW45 – Trish Stockman
King Cup MW55 – No winner
Sealed Handicap all MW – Trish Stockman
Club Road champs
Presidents Cup 1st SM – Kerry Suter
Graham Wilson Trophy 2nd SM – Garit Read
Galloway Cup M20 – Theunis Pieters
Batten Cup M18 – Oliver Mclean
Brownson Cup  MM40 – Glenn sexton
Porter Cup MM50 – Kevin Knowles
Ernie Batten Cup MM60 – Colin King
Lynch Cup SW – Helen Rountree
Ted Hamilton Cup MW35 – Vicki Rees Jones
Chandler Cup MW45 – Trish Stockman
Jack Hewiit Cup MW 55 – No winner
KSM Trophy W18/20 – Mary Bollen
Sweeney Cup – Wendy Harris
Huntly Half Fastest Member – Tony Olsen
Sing Relay
Mary Bollen , Evan Primmer
Marathon Trophies
Southwick trophy   SM – Ants Hancy
Atlanta Trophy  SW – Kovo
Peter Buckland Cup MM – Hadley Craig
Rogerson Bowl MW – Kirsten Milne
Most Improved Gardiner Cup
-Ryan Stacey
-Miguel Gomez
-Ants Hancy
-Lance Brew
-Kris Moore
Winner: Lance Brew
Irvine Cup
-Katie Stone
-Kovo
-Emily Roughan
Winner: Kovo
Ted Hamilton Cup MW
-Sandra Jensen
-Wendy Harris
-Ellie Broadbridge
-Jean Dorrell
-Jenni Hoogeveen
Winner: Ellie Broadbridge
Lance Allen trophy MM
-Mike Harris
-Grant Budd
-Dave Melville
Winner Mike Harris
Hewitt Trophy
Winner Mary Bollen
McLachlan Trophy
Winner: Theunis Pieters
Special Trophies
60th Jubilee Cup in conjunction with Wilson Brown – Glenn Sexton
Mcleod Shield Sealed Handicap combined XC and road – Trish Stockman
Stirrers spoon – Jenni Hoogeveen
Ray Curnow Best sealed handicap any grade club XC – Trish stockman
Hard Luck Trophy – Charlie Evans
All comers and goers – Cameron Hall
Gregor Cameron Trophy Best national Road relay performance
-John Crane
-Jacob Priddey
-Kirsten Milne
-Kovo
Winner: Kovo
Keith Trow Memorial Best Individual performance of the year
-Camille Buscomb
-Helen Rountree
Winner Helen Rountree
Harrier of the year
-John Crane
-Mike Harris
-Kevin Knowles
Winner: Mike Harris
Hawks – Kids Trophy List 2013
Trophy Day
Carson cup G14/16 – Grace Ritchie
Upton Cup B14/16 – Zac Bellamy
Johnson Cup B10/12 – Donovan Farrell
Humphries Cup G10/12 – Charli Miller
Gilchrist Rosebowl
Weller Cup ?
Adrian Hewitt ?
Club XC
Parents Cup G10 – Rosie Miller
Prize G12 – Charli Miller
Woodhead Cup B10 – Seth Olsen
Prize B12 – No winner
Prima Donna G14 – Lucy Farrell
White Cup B14 – Finn Myles
Hair Foundation G16 – Emerson Deverell
Cranston Cup B16 – Harry Ewing
Club Road champs
Hewitt Trophy G10 – Sophie Harris
Ken Jihnson Trophy G12 – Charli Miller
Blackham Cup B10 – Abdullahi Ahmed
Prize B12 – Abdigani ahmed
Stonely Cup G14 – Grace Ritchie
Horan Cup B14 – Isiah Priddey
Celia Morris Cup G16 – No winner
Daly Trophy B16 – Harry Ewing
Sweeney cup
Llasram trophy – Sam Olsen
Baybutt Barometer – Charli Miller
Most Improved
Hewitt Trophy – Matt scott
Keith Falla Memoria – Emerson Deverell
McCondach Cup G14 – Grace Ritchie
Izzard Cup B14 – Connor Tristram
Bob read Trophy G12 – Charli Millar
Neil Wilson Trophy  B12 – Sam Olsen
Viki Boase Trophy Best all round girl –  Emerson Deverell
Eric Bose Trophy Best all round Boy – Isiah Priddey
https://hamiltoncityhawks.co.nz/wp-content/uploads/2013/10/prizegiving1-e1382122872258.gif
331
304
Hawks | Admin
https://hamiltoncityhawks.co.nz/wp-content/uploads/2015/05/HamiltonCityHawks.png
Hawks | Admin
2013-10-12 16:30:40
2014-07-19 08:31:10
Hawks End of Year Prize Giving 2013 Results