National Road Relays 2016 Results
The National Road Relays – such a special event! The finale for the winter road and cross country season, always full of drama (especially in the week before the race), where everyone is expected to give 100% and ends up giving 110%, awesome individual performances, team commitment … and most importantly, great fun. This year's relay in Rotorua didn't disappoint. It was all of these things … and to cap it off the Hawks finished with a 3 way share of top overall club alongside Wellington Harrier Athletic and Auckland City Athletic (the first time the honour has ever been shared) – a fantastic club result that reflects our depth across all age groups.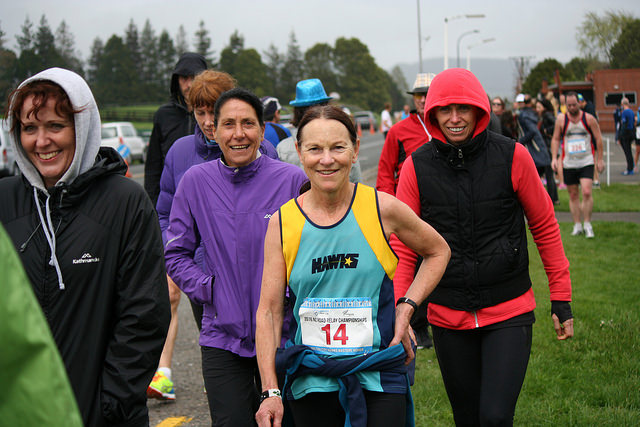 All teams performed magnificently on the day, but none more so than the Junior Women. This is a young junior team with most experiencing their first NRR and probably feeling a bit overwhelmed by it all. With some excellent guidance from Wendy and Helen as team managers they put in an exceptional performance to finish second and very nearly snatching the win. With several more years ahead of them, this team are already a force to be reckoned with at a national level.
There were many other great results and performances – too many to single out, but this is how the teams ended up …
Junior Women – 2nd
Senior Women – 2nd
Masters Women – 2nd
Junior Men – 6th
Senior Men – 3rd (B Grade)
Masters Men – 3rd
Masters 50 – 5th
Social Team – 5th
2016 NRR_Full Hawks_Results (PDF)
Full NRR results here
A huge thanks from me to everyone who took part, all those who helped organise, drive vans, support, etc. Thanks also to those people who marshalled a stage on behalf of the club – definitely the best organised change-over and great to see everyone out on the course.
We must also pass on a big thanks and congratulations to Lake City for hosting a very successful event.
Looking forward to next year already!
Cheers,
John Crane
And from Don – 'Huge congratulations to all those involved in the national road relay champs over the weekend. To score 50 points in the champion club comp was a brilliant team effort. The fact that four clubs ended up with 50 was historic. Did Athletics NZ have spare gold medals available?
Superb effort to John Crane and his organising team. I was very proud to be a Hawk and was quite chuffed to be able to access Facebook and Twitter on my computer after noon and catch up with information about the many Hawks medal successes. There was some close racing for our teams and I look forward to hearing the many stories.  National road relays are FUN!' – Don Willoughby
---
NRR report – Junior Womens Team
Report by Wendy Harris
Helen and I were privileged to be able to manage the Junior Women's team of Sam Corbett, Aimee Ferguson, Monique MacDonald, Rose Dillon, Charli Miller and Grace Ritchie at this year's NRR champs.  As a very young and inexperienced team we had no expectations of them placing and just hoped that they would enjoy the experience and see it as an opportunity to be a part of a national event and set themselves a goal for 2017.  The drive around the course on Friday followed by a team chat where Helen gave them instructions on not jumping into bushes and letting us know if they needed to go to the toilet while we were out on the course so we didn't lose anyone only seemed to assist in increasing the nerves of the girls.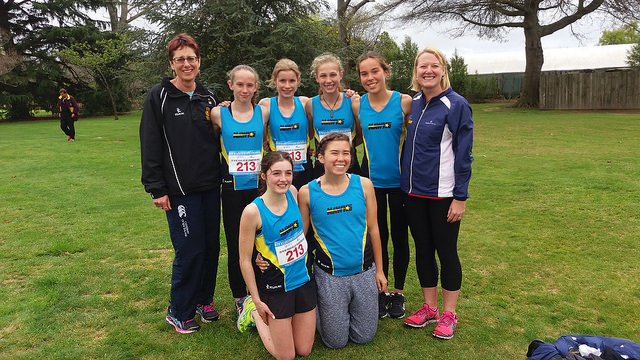 Race day dawned and we all jumped into "Betty" our trusty transport for the day with Sam who was up first looking rather nervous and quite possibly wondering what she had got herself into particularly as her longest 'race' previously was 5km and her lap was over 8km ending on a 2km hill.  Running a very well thought out and wisely paced lap Sam got the team into a creditable 5th place with the 4th placed runner within her sights as she handed the baton to Aimee.  Aimee was well aware that she had the biggest uphill lap and really needed to pace herself so she could do the distance.  She set off strongly and very quickly passed Pakuranga JW to gain a place and put us into 4th position.  Despite the tough uphill every time we saw her she was smiling and you could see the determination on her face – a really gutsy effort finishing strongly and resulting in being the second fastest JW on her lap.
Monique was next and with the shortest but nastiest lap, being a very steep downhill.  Monique maintained a fast even pace throughout and kept us close enough to the 3rd placed Wellington that there was a chance we could catch them.  Monique ran so hard her hips almost didn't want to work anymore when she had done.  The very cheerful and bubbly Rose took over the baton at this point for leg 4 of the race and worked hard to close the gap between the Hawks and Wellington.  Her lap was a tough 6km of ups and downs but her triathlon training certainly paid off with Rose also ending up the second fastest JW runner for her lap.
With two laps to go and five minutes between the lead JW team of Auckland and our girls Charli took over.  She had been given strict instructions to ease off in the first 2kms as it is all uphill before it flattens out for the remaining 6km of her lap.  She seemed to have her own race plan though and took off flying up the hill.  Helen and I started to get a little concerned that she wouldn't finish the lap as she couldn't keep that pace up but she had obviously found a whole new level of speed and energy as she just kept going and going.  At this point the volume in 'Betty' increased somewhat as the girls realised that maybe, just maybe they might get a podium finish after all and there was much screaming out the windows as we cheered Charli on.  She passed the 3rd place, then she passed the 2nd place and by the time she had handed over the baton to Grace at the final changeover the girls were in 2nd place with only a minute and a half between them and Auckland.  Grace, the team's most experienced runner in the team looked focused and calm as she set off (I'm sure she was actually quite anxious as the thought of keeping the team in 2nd place weighed on her mind).  We had to leave Grace at the 4km point of her 10.4km lap so we could get to the finish in time to see her but when we left her she was looking strong, determined and fast and we could see the gap between her and 3rd increasing as she made the prospect of a 2nd placing look very secure.
We saw Grace again as she came flying towards the finish having closed the gap between her and Auckland to around 30 seconds.  The girls (and Helen and I) were screaming in excitement knowing they were now silver medallists.  Charli and Grace also achieved the accolade of fastest runners on their prospective laps.  For Helen and I to say we are proud is an understatement.  The girls truly displayed guts, comradeship, support, encouragement, determination and I think most of all courage in what was an extremely tough race.  Well done girls.
https://hamiltoncityhawks.co.nz/wp-content/uploads/2016/10/2016-NRR_Junior-Womens.jpg
360
640
Hawks | Admin
https://hamiltoncityhawks.co.nz/wp-content/uploads/2015/05/HamiltonCityHawks.png
Hawks | Admin
2016-10-01 16:30:44
2016-10-10 22:18:41
National Road Relays 2016 Results