North Island XC Champs 2016 Results
Report by Kevin Knowles
The best weather ever.
Running with the frost still on the ground on the shaded areas of the Spa Park course. ( a bit cold on the toes of our bare-foot runner, eh Gilbert). A great number of entries, as usual, meant very competitive racing.
Full results:
20160702 NIXC Mens and Boys Results
20160702 NIXC Womens and Girls Results
Grade medal results for HAWKS include:
Mathijs Wetzel 1st,
Charli Miller 1st,
Isaiah Priddey 1st
Emerson Deverell 2nd
Bridget Deverell 2nd
Bridget Ray 3rd
Maureen Leonard 2nd
John Crane 2nd
Harry Ewing 3rd (upgrading himself to senior men for the day.)
See more podium results over at Athletics NZ
Also nice running by the rest of our Hawks team. Glad to have you all there.
The best way to fill the time between racing and prize-giving was a nice soak in the hot pools at the edge of the river.
A well spent day.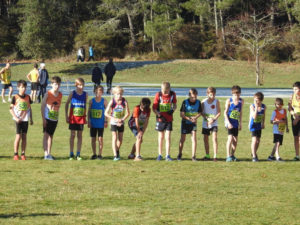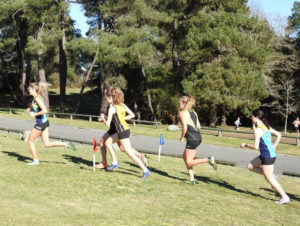 Report by Mudlark:
The 29th North Island Cross Country Champs were held on Spa Thermal Park in brilliant winter sun with no winds in quite the best conditions I can remember after a long association with this event as a cross country nut. For many North island clubs this is a total club trip so there were some good fields. The Hawks singlet was to the fore in many events which was very pleasing. The stand out Hawks run came from national secondary schools year 9 champion Charli Miller. She led from the gun and maintained good form throughout to finish strongly and set a new race record taking 2 seconds off the Hannah O'Connor 2015 mark by recording a smart 10.40 for 3kms. It was a run of real class and delighted coach John Tylden.
Another Hawks victory went to Isaiah Priddey who won the M18 5km with a front running display. It was great to see Isaiah back running freely and close to his best form again. Clocking 16.06 for 5km cross was very sound run. Emerson Deverell ran a cautious race in the W20 4000 after a wee break through a strained tendon and finished just 4 seconds off a win with  a time of 14.30.
In the masters women race over 5km Hawks were really prominent with training partners Bridget Deverell and Bridget Ray locked together through the early stages to finish 2nd for Bridget D in 20.49 ahead of Bridget R in 20.57.
In the MW55 section Maureen Leonard was 2nd in 22.57. Harry Ewing ran a controlled and sensible race in the senior men's 9km to come home strongly on the last lap and take 3rd spot with a 29.19 time. He will hit the US high school scene in late August in great shape. Many other Hawks athletes took part and had solid runs and their individual times and places are still awaited. With the WBOP champs to be held there in a fortnight it was a real pleasure to be able to walk around a course with dry shoes despite the heavy rain that fell early in the week. The free draining pumice and ash course provides an excellent running surface and it is to be hoped that a huge turnout of club runners will take part. It is not a mudlark's heaven.
Excerpt from Athletic NZ's newsletter:
"Isaiah Priddey bounced back from his disappointing run of seventh at the secondary schools championship to also win the combined under 18 and under 20 5km in 16:06. Priddey said that he ran a more tactical race than he did two weeks ago.
"It was a completely different race tactically and it shows that tactics really do make a difference and I think that's what I struggled with at national schools and I did my tactics a bit better this time," he said.
"We went up the first hill and it was feeling really fast, but my legs weren't as tight as they usually are so I was feeling good and I thought with 2ks to go we were moving a bit slower and there was going to be a tight finish with everyone sprinting but for some reason I just felt really good today and was able to pull away from the pack and I'm happy with that," he added.
Hayden Wilde in the under 20 division was second in 16:14 with Angus White, runner up in the schools championship, third overall in 16:16.
Sally Gibbs won the master women's 5km in 19:25 and Carolyn Smith led in the W55 division in 21:47. Stephen Day was a clear winner in the master men 6km in 20:06 and Dallas McCallum was equally convincing in the 50 plus masters in 21:50. Charli Miller, schools year nine champion, set a record of 10:40 in the girls 14 3km, breaking O'Connor's record of last year by two seconds."
https://hamiltoncityhawks.co.nz/wp-content/uploads/2016/07/NIXC16_4.jpg
771
1024
Hawks | Admin
https://hamiltoncityhawks.co.nz/wp-content/uploads/2015/05/HamiltonCityHawks.png
Hawks | Admin
2016-07-02 16:30:02
2016-07-15 14:23:50
North Island XC Champs 2016 Results