National Road Relays 2014 Results
Hawks finished the 2014 season with another successful and enjoyable National Road Relay Championship down in Christchurch at the weekend on the best and most challenging road relay course in New Zealand … Takahe to Akaroa.
A total of 36 runners and 3 coaches made up the 5 teams, consisting of Junior Women, Junior Men, Masters Women, Masters Men and Open C Grade. As always on these trips, there was a fantastic Hawks team spirit, a lot of fun throughout the weekend and plenty of great support for each other out on the course. The result … a well-earned 4th place for the Junior Women in an extremely competitive grade, 3rd for the Junior Men and Masters Women, 2nd for the Open C runners and the Masters Men finally breaking through to win that elusive gold medal (just!). See below for the reports from each team.
Congratulations to all the teams and a huge thanks to everyone who took part for making it such a smooth and enjoyable weekend.
Cheers, John Crane
Hawks Team Reports, Results & Photos
Master Men
Report by Corey Hinde
Last Saturdays National Road Relay race was a glorious day for the Masters Mens team.  The core of the team has been together for 6 years now and has come close every year, and for a variety of reasons things have never quite panned out.  The team was confident, and our key opponents had some runners missing, so confidence levels were high. The night before we were doing our homework and concluded that ourselves, Nelson, and Pap Toch would be all within minutes of each other, so the start line couldn't come soon enough, we were keen to get down to business and lock this one away.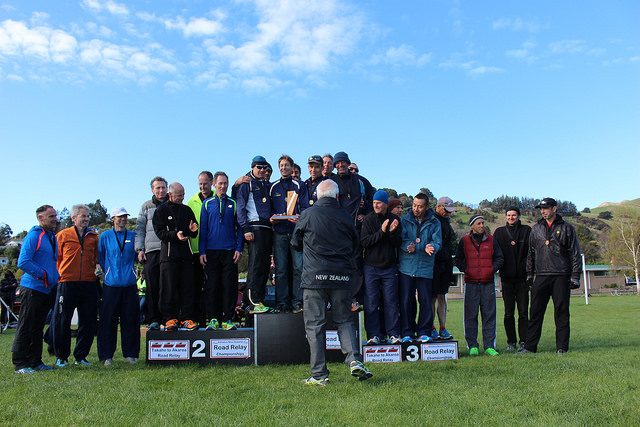 Andrew Wark took leg 1.  After decimating the opposition on this leg last year, Warky was the man for the job, but by his own admission he wasn't quite as fit as last year.  He did a great job, faded slightly at the end but handed over the baton in 4th spot, only about 100m from first place.  He certainly did the job, nailed the long downhill, and got us close enough.
I (Corey Hinde) was the new guy on the block and was keen to front up for my mates and do my best.  I was injured all July and most of August, so was happy to be able to get mostly fit, and was feeling good.  I quickly ran down the lead guys, the Scottish runner wasn't in great shape but the Pap Toch and Nelson guys were keen to battle.  I was fatigued after the first 1km of catching guys, so sat in behind them after the first hill for the next 4km of flat.  I had to be patient and let them burn out, so once I could see the large hill climb I went out and gapped it.  Nelsons runner had no ability to go with us, but the Pap guy was with me right up the hill.  I had us briefly in the lead but once the downhill started my hip was a bit dodgy and he left me behind.  I got to the handover around 30 seconds down, but still with a good gap back to 3rd.
Jason Cameron was next up on the flat 10K leg.  I was really worried because Jason had been walking like a 90 year old the day before, and reports of dodgy achilles had us worried.  The real risk here was not completing the leg, so to see Jason finish the leg was a load off our shoulders, he certainly could have run faster if the body was willing, but it wasn't and to combat the obvious pain he was in was a win in itself.  The Nelson runner behind him ran a great leg to pass Jason, so were back in the field a bit, and Pap Toch were a solid few minutes up the road by now.  Jason will be back, once his body has healed he'll run fast times once more.
Glenn Sexton, one of the core group for years now, was on the 9.4km leg, the leg where you usually put your injured or weaker runners.  Glenn was nowhere near race shape a month ago, and has been battling some real issues with his feet, so I was not surprised to hear he was on pain killers for the entire week leading up.  Again, a really risky leg for us.  Don Greig was running for Pap Toch, who was also battling injury, and the Nelson team had their weakest runner on this leg.
Glenn looked like he decided to go early.  He took off controlled but certainly at a solid pace.  He covered the Nelson guy pretty quickly to get us into 2nd, and then started working on Don Greig from Pap.  Don was looking a bit off with his gait, so it was great to see Glenn really taking to task and closing the gap down quickly.  It was evident that Glenn was having a great run and dragging us right back into contention.  The leg was over really quickly, Glenn ran a great race to be done within 33 minutes, which given his racing lately and injuries, was almost hard to believe.  Don Greig held his own towards the end but Glenn had put out a great relay leg, and our team was starting to realise how close this race was going to be.  We were down to within a minute by now, and Pap Toch were handing over to their fastest guy, we were handing over to a very fit, very motivated, and very nervous John Crane on the longest leg.
Craney ran an amazing leg.  36:24 for 10.7km, broke the MM50 record for that leg by a minute, and only lost 33 seconds to the Pap runner Chris Mardon who is in lifetime best form.  It was an intense battle between these 2, Chris ran 7th fastest for the day across all grades, and John 10th for the day across all grades, and when you consider that this leg gets the best runners, it was truly elite masters running.  John could not have asked for another second from his legs, he set us up well and it was John Bowe's turn to punish himself.
John Bowe after much debate was given the uphill leg.  A truly hurtful relay leg, and certainly very important, minutes can be gained and lost on this epic hill.  This is where the closeness of this battle really was evident.  John and his Pap opponent were within 3 seconds for this leg, so basically the gap stayed the same.  John certainly did a great job, improved on his time for the same leg last year, and got us to within striking distance.  Behind him, the runner from Nelson ran a bit of a monster and took a good 80 seconds back for his team, so they were contenders again.  At the handover, the Nelson guys were very chipper and the guy who had just finished his leg was pumping fists, so this race was still not over.
Marc Scott is our downhill specialist and got the baton with a deficit of a minute, and a charging Nelson team behind as well.  This leg is not accessible, so we just drove down the hill and hoped for the best.  Marc has been training all year with this race in mind, and has improved a lot overall, so we were very confident in his ability to get the job done here for us.
Suffice to say, Marc delivered the goods.  He ran an amazing 9th overall for the day, took us into a small lead, and ran like a man possessed.  To see him come off the hill first was just awesome, and we were now sure we could do it.  What we didn't know was that the last Pap Toch runner was actually much fitter than our research had suggested, and that Peter Versey from Nelson behind Marc had run the 5th fastest overall for the day on this leg, which is quite amazing, and this race was still not over.
Below: Marc's slick baton hand changing saving those valuable seconds!
Kent Hodgson, time to step up and take centre stage.  The perfect man for the job.  He started with a gap of 14 seconds, and behind him Graham Taylor of Nelson was sure he could cover his gap of 1:43.  Certainly at this point the pressure was intense, we were all as nervous as anything, and the race was on!
Kent and Darren Hoolahan of Pap then duked it out over the next 10km of hills, both men running hard from the get go, with Kent hanging tough.  It was evident after about 3km that Taylor from Nelson was out of the running, these 2 guys were pushing each other too hard to get run down.  It was just brilliant stuff to watch, Kent was in the zone, he never looked back, he never lost his cool, he just delivered and held on to the end.  2nd place was on the grass when Kent finished, 3rd place was also in the park area.  It was a great sporting moment, the majority of the club were there to watch, and it was just so satisfying to see the team win it after so many attempts. Glenn, John Crane, Kent, and Andrew have been part of the team for many years, it was Jason and Marks second time, and John Bowe and myself were lucky to win at our first go as Masters. We'll be back, next year with more teams, long may our reign continue!
Thanks to all involved, if you've never been to a road relay, get on a team, it's just an amazing day!
Masters Men
Time
Leg1
Andrew Wark
34:25
3
MM
Leg2
Corey  Hinde
37:49
2
MM
Leg3
Jason Cameron
38:04
6
MM
Leg4
Glenn Sexton
32:59
3
MM
Leg5
John Crane
36:24
2
M50
Leg6
John Bowe
32:01
4
MM
Leg7
Marc Scott
30:57
3
MM
Leg8
Kent Hodgson
37:09
2
MM
Finish
 
4:39:48
1st Place MM
Master Womens
Report by Kirsten Milne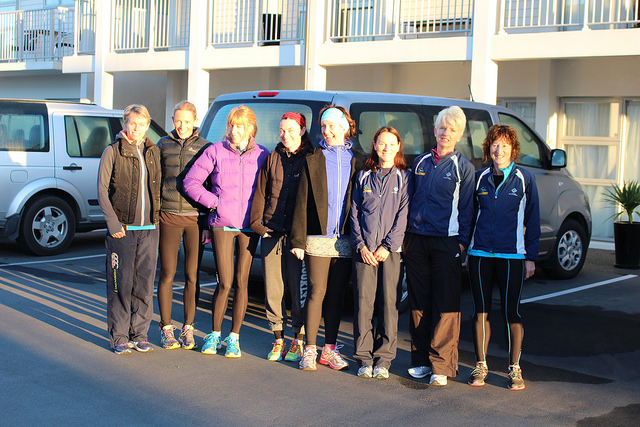 'There may be gusting winds', guru Graham said
Filling our pre-race thoughts with dread
But early next morning the weather was well
Not much wind at the start but cold as hell
We got to the start, with coffee's in hand
Graham and the masters women's band
Sandra was first, in her first relay
Running strong the entire way
What a team player-though amusing that
she had no space for a new Hawks tat
Next was Katy's great endeavour
Strong  up the hill and fast as ever
Recent surgery, still such grunt
Reeling in those teams in front
Baton to Kirsten (who's actually ready)
Trying to keep a pace that's steady
Spurred up the 'hills' by cheerful beeps
(For calling them hills she's given heaps)
She passes to Trish, pleased to finish
Out team's in front, we're feeling 'winnish'
Trish runs well, despite not knowing
How her injury would be going
Reliable, quick and job well done
Baton to Bridget, we're having fun
As Bridget motors along lap 5
We stall/we drive/we stall/we drive
She bolts to the end, now Lisa's keen
We soon discover a real 'machine'
Powering up that relentless hill
Lisa! Lisa! Kill-kill-kill!
Her second race ever, 'Carpe hill-um', her Latin
(she later receives the master's team baton)
Next waiting for Ellie when Marc sprints on in
The MM team on their way to the win
Witnessing history, it's flippin exciting
(Though just at that stage it was more 'nail-biting')
And wait-now here's Ellie! Our star downhill runner
Outsprinting ex champ in a last second stunner
Now sprawled on the grass, but Ellie's no wimp
(Meanwhile the Olympian's faking a limp)
Maureen heads off, amidst team exhorting
To do that last leg was incredibly sporting
A real solid effort, the leg is so tough
She powers in third-masters women, great stuff!
Special thanks goes to Graham, the rock of the team
And to everyone else-next year guys-are you keen?!!
Below Left: Team in cheer leading mode  Below Right: Shopping all part of the race preparation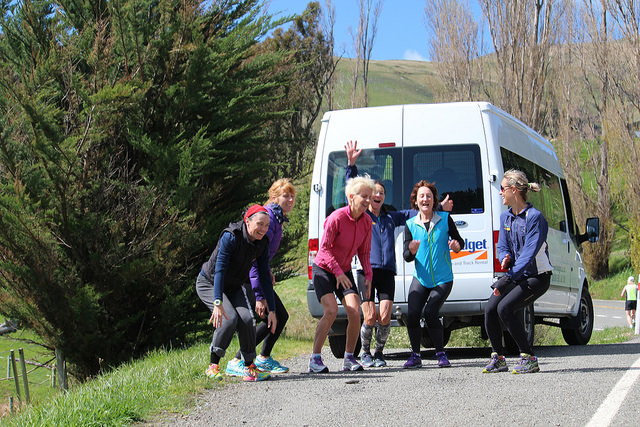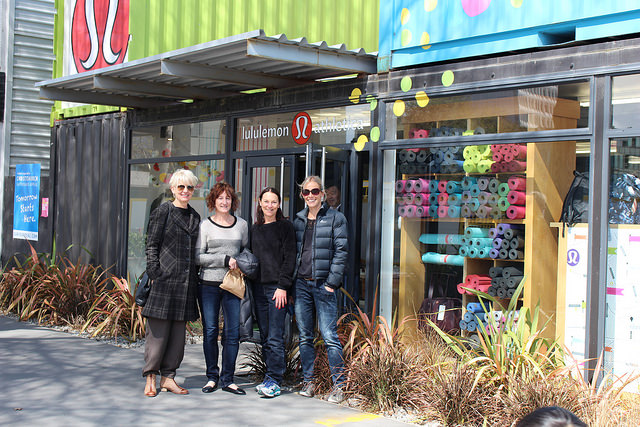 Master Women
Leg1
Sandra Jensen
43:55
7
MW
Leg2
Katy Dawson
44:28
4
MW
Leg3
Kirsten Milne
40:20
2
MW
Leg4
Trish Stockman
40:56
2
W50
Leg5
Bridget Deverell
43:40
3
MW
Leg6
Lisa Joblin
38:20
2
MW
Leg7
Ellie Broadbridge
40:07
5
MW
Leg8
Maureen Leonard
46:31
6
MW
Finish
 
5:38:17
3rd Place MW
Open C Grade Team
Report by Kovo Kowalewski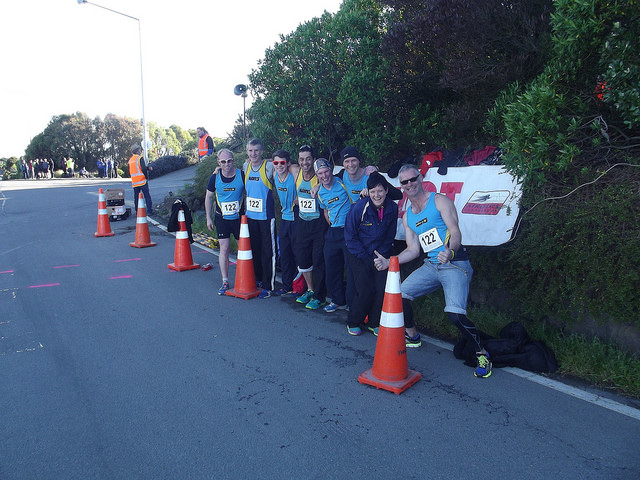 The compost team – All the rubbish piled into one, and left to mature over the course of the day coming away with the silver! The Senior Mens C team = Greatness! I had the privilege of spending the day with 7 men – and what a privilege it was!
It was a beautiful day with blue sky, cold winds and lots of banter. With Kevin driving (I said my prayers many times) we were off to the start. Kris started us off with an outstanding performance on leg one finishing in true Kris style with head right back, and nothing left in the tank. The paramedics came to assist but I soon assured them that this was normal for Kris. Grant was handed the baton, he turned up the pace for leg two (nearly having to run the whole way to Akaroa due to Kevin missing the turn). Mike looked fresh the whole way, arriving at handover in slightly better state than last year. Oscar was amping and smiling as Oscar does, till the end before our captain Kevin took us through to complete leg five with the great goldfish face to finish.   With the veterans and most experienced team members done, young Matt Scott was next up the hill.  With an impressive uphill leg completed – Matt not only did the fastest time within the Hawks club but he also won the outstanding "ugliest face" competition – he absolutely smashed himself. I completed the downhill leg (which is not so downhill people) with the angry red beaver Lance waiting at the bottom. With an exceptional performance and the greatest encouragement from the team Lance dominated the last leg.  Finishing the day in what we thought was fourth – we were happy…then we soon found out that Lake City DNF which took us to bronze! BUT somewhere along the way someone passed someone and we finished with silver – two minutes behind the leaders.
It was a great day with many highlights including one beautiful man named Tom.  For once the guys had to hear me talking about legs and bums.  A massive ups to 'my' team for allowing me to have the privilege of seeing the tough side and the emotional side of you all.
Open C Grade Team
Leg1
Kris Moore
36:13
15
SM
Leg2
Grant Budd
41:36
7
MM
Leg3
Mike Harris
40:26
9
MM
Leg4
Oscar Emery
39:35
8
M50
Leg5
Kevin Knowles
41:05
8
M50
Leg6
Matt Scott
30:44
16
SM
Leg7
Kovo Kowalewski
32:06
1
SW
Leg8
Lance Brew
38:22
12
SM
Finish
 
5:00:07
2nd place C-Grade
Junior Men
Report by Theunis Pieters
Heading down to Christchurch this year we only had one goal in mind…medal!  We were not coming back to Hamilton empty handed again, and we didn't.  We knew there would be strong competition from both Wellington and Christchurch, so the plan was to keep in contact with them for as long as possible.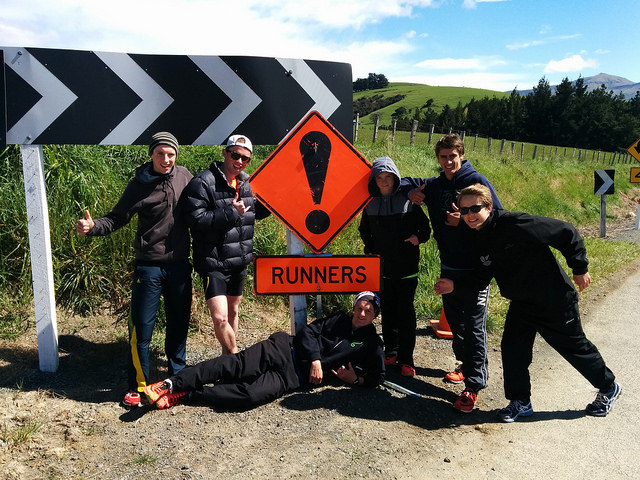 First on the road was little Isaiah…what a bloody legend!  New to road relays, youngest in the team but with the heart of a lion, he mixed it up with the big boys. Let me tell you I love watching him race.  A gutsy effort saw him finish only 60 seconds off the leader and 10 seconds off fourth.
Next up was Harry and honestly my vocabulary is nowhere near good enough to describe the amount of courage, determination and pure class shown by this fine young specimen.  Smashing the downhill, he moved us into second place, catching and passing Christchurch in the process.
Jacob took over from Harry and in true "Jacob" style, he killed it.  The guy does not know how to run slow, and running into the wind with the Christchurch runner breathing down his neck, he held on, finished strong, and made my job a hell of a lot easier.
I thought I had a solid leg into the wind and finishing with the tail wind was amazing.  We were 30 seconds off the lead, but had an unassailable gap between us and fourth place.  Cameron showed a lot of guts to run a near perfect leg.  He secured the bronze medal for us and his sprint finish was something out of this world!  I never knew a Taylor Swift song could make a guy run like that.
Oliver ran the last leg and again, what a great run!  He never slowed up, ran his heart out and pulled away from fourth place even more.  He crossed the finish line to the cheers of "Ollie, Ollie, Ollie,,,,Oi,Oi,Oi!  It was an absolute perfect trip for us, we won a medal, had a lot of good laughs, the team spirit was epic and man am I proud to be a Hawk!
Cheers to Vaughan for coaching, driving, cheering and helping us.  You are an inspiration and I'm sure all of us ran for the doctor. Last but most important to the JM team, Hawks may not have won top club overall (even though we deserved to win it and should have won it), but we did win the annual touch game convincingly and that is satisfactory.  Bring on Senior Men next year!!
Junior Men
Leg1
Isaiah Priddey
15:39
7
JM
Leg2
Harry Ewing
20:33
2
JM
Leg3
Jacob Priddey
32:21
2
JM
Leg4
Theunis Pieters
30:56
2
JM
Leg5
Cameron Swales
22:28
5
JM
Leg6
Oliver McLean
14:03
5
JM
Finish
 
2:16:00
3rd Place JM
Junior Women
First time at NNR for all the girls in the team. Solid performances all around and everyone really enjoyed the experience. Jordan got us off to great start in fourth position, handing off to Grace who smashed it up the hill to record the fastest girl's time for the leg, putting us into third position. Emerson had a great run but came face to face with the challenge of one Rosa Flanagan, valiant though Emerson was, we were pushed back into fourth. Beth, Marcia and Georgia held this position through to the finish line.
Great to be able to get into it and support our other teams and to see what it's all about. Massive thanks to John Tyldon for driving and supporting us. Awesome event to be a part of.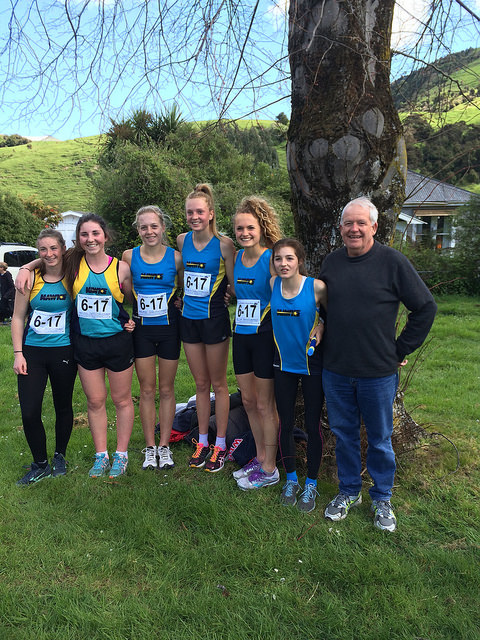 Junior Women
Leg1
Jordan Hitchcock
19:36
4
JW
Leg2
Grace Ritchie
24:10
1
JW
Leg3
Emerson Deverell
39:14
5
JW
Leg4
Beth Hampton
39:26
6
JW
Leg5
Marcia Jerram
27:14
6
JW
Leg6
Georgia Grenfell
18:16
7
JW
Finish
 
2:47:56
4th Place JW
Hawks Photo Gallery
[AFG_gallery id='51']
https://hamiltoncityhawks.co.nz/wp-content/uploads/2014/10/JM-NRR-2014-Winners.jpg
480
640
Hawks | Admin
https://hamiltoncityhawks.co.nz/wp-content/uploads/2015/05/HamiltonCityHawks.png
Hawks | Admin
2014-10-04 16:30:43
2014-10-11 18:21:19
National Road Relays 2014 Results